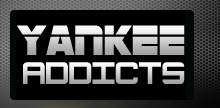 January 30, 2012 · Joe Perrino · Jump to comments
Article Source: Bleacher Report - New York Yankees
The New York Yankees have cultivated a number of home-grown superstars in their history as a franchise. Players such as Yogi Berra, Lou Gehrig, Tony Lazzeri, Derek Jeter, Jorge Posada, Mariano Rivera, Joe DiMaggio, Mickey Mantle, and Whitey Ford were all drafted by the Yanks and went on to make their impact on Major League Baseball in New York.
With such a phenomenal track record of drafting future greats, the Yankees and their fans were on their high horse over up-and-coming catcher Jesus Montero. In his 18 regular season appearances and 61 at bats for the Yankees in 2011, Montero compiled 20 hits, four doubles, four home runs, and 12 RBIs; this gave him a .328 batting average, .406 on-base percentage, and an impressive .509 slugging percentage. With a seemingly bright future ahead for the 22-year-old catcher, Yankees fans were shocked to hear his name in trade talks.
On January 23, 2012, a deal was finalized between the New York Yankees and the Seattle Mariners that sent Jesus Montero and Hector Noesi to Seattle in return for pitchers Michael Pineda and Jose Campos. Although this seems like an even deal on paper, Yankees fans are pondering whether they might regret letting Montero go in the future.
The Yankees saw a weakness in their pitching rotation, a void that perhaps top prospect Michael Pineda could fill. Pineda finished the 2011 season at 9-10 with 173 strike outs, 55 walks, and a .374 ERA. New York is hoping that Pineda's services will help strengthen their struggling rotation.
It was not exactly breaking news that the Yankees needed to send out an S.O.S. for their sinking bullpen if they wanted another shot at making the World Series. The burning question on Yankees fans' minds is whether letting go of Montero and all of his promise will come back to haunt them in the future.
The most important thing that Montero brings to the plate (literally) is his electrifying bat. In a league where it is becoming increasingly difficult to find great hitters, players who excel at the plate are highly coveted (see: Prince Fielder's new contract). This may be even more true for teams in the American League, who often find that a power-hitting DH can add an entirely new dimension to their ball club. Although Montero is fairly unproven, the promise that he shows with a bat in his hands is hard to ignore.
On one hand, Montero could turn out to be a bust and allow Yankees fans to take a big sigh of relief. On the other hand, his pinstriped ghost could haunt the Yankees organization and fans for years to come. The same fates hold true for the Seattle Mariners as well.
So I pose the question to you, baseball fans: Was trading Jesus Montero a good or bad move for the New York Yankees?
Read more New York Yankees news on BleacherReport.com