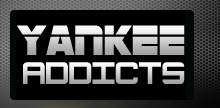 April 22, 2010 · Bronx Baseball Daily · Jump to comments
Article Source: Bleacher Report - New York Yankees
Things are going as well as you could ever hope for the Yankees this season.
They have won each of their first five series this season, the first time they've done that since 1926, and are sitting in first place with an 11-3 record.
They also have their ace, CC Sabathia , on the mound today as they try to go for their seventh win in a row.
Here are some notes and quotes.
Notes
The major league record for most series victories to open a season is nine.
After Sabathia's near no-no manager Joe Girardi said that he would have taken him out of the game anyways because of his pitch count. Girardi said he probably would have let Phil Hughes go the distance last night because he was being more economics with his stuff. The limit would have been 115 pitches for Hughes.
A lot was made about Hughes' changeup during spring training and it was even cited as the reason for removing Joba Chamberlain from the rotation. But in his first start Hughes only threw about five and he didn't throw any at all in his no-hit bid last night.
Things are going very well for the Yankees, but that hasn't kept people from nit picking over the bullpen. NoMaas.org wrote a great piece about high-leverage situations and how Girardi doesn't quite understand them. They're right, as usual, but the Yankees are winning games and the bullpen as a whole isn't exactly being overworked so it hasn't exactly had a negative effect yet. Also, Girardi is not nearly as bad as some other managers out there, see I'll-save-my-best-reliever-until-the-19th-inning, but-not-before-I-make-him-warm-up-nine-times Jerry Manuel.
The Yankees are making some lineup changes today that we have not seen this season. Nick Johnson will play first base with Mark Teixeira getting a half-day off as the DH. Curtis Granderson is getting the day off with Marcus Thames filling in as the left fielder and Brett Gardner sliding over to center. Francisco Cervelli is once again starting with Sabathia on the mound.
Quotes
Mark Feinsand of the NY Daily News did such a great job laying out the quotes from last night and he did it in the same style I usually do it. So I'm just going to copy and paste some of his work, but it is not going to be his article in its entirety so go to his blog to check out the rest .
On Eric Chavez's Hit, A one-hopper that drilled him in the left forearm
"That's not really the way you want to give up a no-hitter, but that's the way it goes."
On his teammates trying to shout at him where the ball was on Chavez's hit
"Posada said he was yelling, but the fans were louder than he was. … I'm looking for it and it's not there. I was like, 'Oh, great.' I looked at A-Rod and he was pointing down, and that's when I saw it. It was too late. It seemed like I was looking for the ball for about eight minutes. That's the way it goes."
Comparing his game to the 6 1/3-inning no-no he had going on May 1, 2007, in Texas, a game he was forced to leave because of a hamstring injury
"After I got that first out in the seventh, I was just hoping I didn't go down with something. That's all I was thinking about."
On not throwing a single changeup all night
"Some days, you're going to have such good stuff, you may shy away from a certain pitch. Tonight was one of those nights. As I kept rolling and rolling, I didn't want to get beat on a changeup."
Related Stories
Read more New York Yankees news on BleacherReport.com