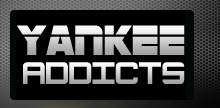 April 21, 2010 · Bronx Baseball Daily · Jump to comments
Article Source: Bleacher Report - New York Yankees
Good evening Bronx Baseball Daily readers. Some of you might have noticed our lack of updates this morning. First, we didn't have a game recap because the Yankees' West Coast trip is hard to stay awake for and, in an effort to stay up late last night, I accidentally caused myself to sleep in today. Also, we had some server issues this morning and it may have been hard for people to access the site.
But things are good to go now and I'm excited. Actually I am excited that Javier Vazquez finally got his first win and that Phil Hughes is making his second start of the season tonight.
Notes
Vazquez got his first win with the Yankees since 2004, but it wasn't exactly pretty. He is starting to come around though. He threw more pitches for strikes and his velocity was up, if only slightly, last night. He was clocked as high as 91.4 mph, but he was reaching 89-90 mph for a while, which is better than he was.
Joba Chamberlain came in yesterday and pitched very well. He got a strikeout with the bases loaded in the seventh and pitched a strong eighth. His velocity has been improving each game. It is doubtful to ever get back to where it once was, but he was in the 96 mph range yesterday. He also appears to have won the eighth inning job.
Robinson Cano kept his great season going by walking three times last night. Obviously that's not usually that big a deal, but coming from Cano it shows that he has matured as a hitter. He is having a great season, but realize that even though he is currently OPS-ing a whopping 1.028, his OPS with RISP is only .706.
Nick Swisher went 1-4 yesterday, picking up a pair of RBI's. It snapped an 0-16 slide and got his average up to .205. If you are worried about him you shouldn't be. It's early. Less than a week ago his average was up to .308. This early in the season, one's numbers look bad if they go through even a very small slump.
Quotes
Vazquez on his night: "My mechanical stuff still is off but it was an improvement from my first couple starts. That's my weakness, mechanics, through my career. I just need to get it back. The first two games were tough. I can't hide that, but it's still early in the season and there are still a lot of games to be played."
Girardi on Vazquez's start: "We think he's going in the right direction. I like the way he finished. I think it's important for him to get that under his belt."
Up Next
The Yankees have Phil Hughes on the mound tonight. He's taking on a tough pitcher in Ben Sheets, but after his last start he has the potential to match up against most pitchers. Consider this, the Yankees might be un-slumpable this season. Even if Hughes doesn't pitch well tonight, they still have a good shot at winning this series with CC Sabathia on the mound tomorrow.
Related Stories
Read more New York Yankees news on BleacherReport.com