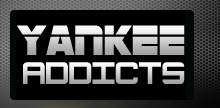 February 21, 2010 · Bronx Baseball Daily · Jump to comments
Article Source: Bleacher Report - New York Yankees
Yesterday our very own Brian Burkhart wrote a great article pointing out how Jorge Posada's catcher's ERA is misleading and that he wasn't necessarily a liability behind the plate. Shortly after Brian wrote that, Yankees manager Joe Girardi addressed the media about Posada and said that he will be catching AJ Burnett this year.

"Jorge (Posada) is going to catch (A.J. Burnett) in spring training," Girardi said. "We're going to do that. There are times, I know for me personally, it took me longer to learn some pitchers than others…We're going to put them together and we'll approach it as Jorge is going to catch every day in the season."
So there you have it. As of now the plan is for Posada to catch Burnett during the season and the way Girardi said it makes me believe that he's being serious.
The thing is, Posada only caught about 100 games behind the plate last season and only about 30 the year before. I expect him to catch between 100-120 games this season, probably closer to 120, but you never know with 38-year-old catchers. Francisco Cervelli might be a pleasant surprise offensively and it's possible Jesus Montero gets a few September starts behind the plate. So aside from Posada's age there are other reasons he might not be able to catch 120-130 games.
What my point is that if he only catches about 100 games in 2010 that's about the equivalent of three starts out of every five games. The plan might not be for Cervelli to catch Burnett every time out there, but since the possibility exists that Posada could come in around 100 starts there may be plenty of starts to go around when Burnett is on the mound for the backups.
Related Stories
Read more New York Yankees news on BleacherReport.com