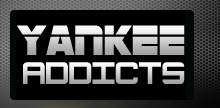 October 26, 2010 · Adam Bernacchio · Jump to comments
Article Source: Bleacher Report - New York Yankees
With the New York Yankees officially eliminated from postseason play, it's time to take a look at some of the moves they will make in the offseason.
One of the potential moves that has been swirling around the rumor mill here in New York is that the Yankees may look to trade Nick Swisher.
The thought process here is that the Yankees would trade Swisher in order to sign either Jayson Werth or Carl Crawford, who are both free agents. It makes sense, as I would rather have either Werth or Crawford over Swisher any day of the week and twice on Sunday.
If the Yankees were to trade Swisher, there are sure to be some suitors. Let's take a look at the pros, the cons and which teams would be interested in the former Ohio State Buckeye.
Pros
Statistics aside, Swisher is a great addition to any clubhouse. He is a classic glue guy, and when you hear teammates talk about Swisher in interviews, they can't say enough about how Swisher brings a positive vibe to the team.
Now on to the statistics.
If a GM is a fan of Moneyball, then Swisher is his guy. Swisher is a base on balls machine, and has finished in the top six in walks four of the past five seasons.
Swisher also has very good power. He has hit 20-plus HRs in each of his first six full seasons in the major leagues.
For those of you who think Swisher's revival in a Yankee uniform is a product of Yankee Stadium, it's not. Swisher played in 75 games each home and away and hit .287/.356/.498 with 15 HRs at home and .290/.363/.524 with 14 HRs on the road.
Swisher has one year and $9 million remaining on his contract with a $10.25 million club option for 2012. For the Yankees, that's like having a guy on the team making the league minimum, but for any other team, it's a fair contract.
He has earned $15.75 million over the last two years, and according to FanGraphs he has been around $31 million worth of value to the Yankees over that time period.
His deal is not the most team-friendly in the league, but it's not an albatross either.
Cons
The 2010 season marked a change in Swisher's overall approach at the plate. He saw a seven percent drop in his BB percentage from 2009 (16 to 9.1), but in turn he saw his batting average increase by almost 40 points from 2009 (.249 to .288).
However, while his batting average increase may look impressive at first, Swisher was aided by an almost unsustainable .335 BABIP.
So if you think about it, if Swisher isn't walking as much and chances are he won't be as lucky in 2011 as he was in 2010, then you are looking at a player that will resemble his first full year with the Oakland A's (.236/.322/.446) more than the player with the Yankees the last two years.
One of the main reasons the Yankees have been rumored to have soured on Swisher is because of his poor postseason play. For the second year in a row, Swisher was dreadful in the postseason, and for his career he is a .162 hitter over 33 playoff games. Numbers like that don't cut the mustard in Yankee land.
Lastly, Swisher is a terrible defensive player. Having watched him over the past two seasons on a regular basis, most fly balls to right are an adventure.
Swisher is leaning towards being a DH, but a good team can get away with putting him at right or first for a full season.
Now that we have looked at the pros and cons of the soon to be 30-year-old, let's take a look at who might be interested in Swisher this offseason…
Detroit Tigers
The Tigers have plenty of holes to fill and plenty of money to spend. The Tigers will not pick up Magglio Ordonez's $15 million option in 2011, and if Detroit and Ordonez can't agree on a way to bring him back, Swisher could be an alternative in right.
Los Angeles Angels of Anaheim
Hideki Matsui is a free agent, and if the Angels decide not to bring him back, Swisher could be an option at DH. The Angels could also decide to put Bobby Abreu at DH and move Swisher to left field.
Seattle Mariners
I don't see the Mariners picking up the $9 million on Swisher's contract, but the Mariners are really desperate for offense and can use all the help they can get. They could use Swisher at first base as a stopgap until Justin Smoak is ready for prime time, or as a replacement for Milton Bradley at the DH spot if the Mariners decide not to keep him around.
Atlanta Braves
The Braves recently cut former Yankee Melky Cabrera, so perhaps they want to try their hand at Swisher. The Braves need outfield help, and Swisher could fill a hole in left field.
Troy Glaus and Derrek Lee are both free agents, and if the Braves feel Freddie Freeman isn't ready yet, they could look at Swisher for first base in 2011.
Chicago Cubs
The Cubs probably need to unload salaries, not take them on, but they really don't have a first baseman or right fielder at this point, and Swisher, a Midwest guy, wouldn't be a bad choice to fill either of those holes.
Kosuke Fukudome isn't the answer in right, and Xavier Nady isn't the answer at first. Tyler Colvin could be the answer at first but has never done so at the professional level.
San Diego Padres
The Padres had one of the worst-hitting outfields in baseball in 2010. In 2011, the Padres will have Ryan Ludwick in right and will need a better option in left than Will Venable or Scott Hairston. Swisher could be that guy.
You can follow The Ghost of Moonlight Graham on Twitter @ theghostofmlg
Read more New York Yankees news on BleacherReport.com