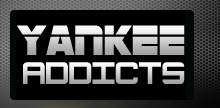 News published by
April 9, 2011
All spring, the New York Yankees showed no concern over Phil Hughes' lack of velocity. Perhaps the shellacking he received on Friday at the hands of the Boston Red Sox ...
March 26, 2011
New York Yankees' manager Joe Girardi has named his starting rotation to start the regular season. Here is what it will look like come Thursday…   1. C.C. Sabathia 2. Phil ...
March 5, 2011
It's been a rough spring training for light-hitting catchers around the majors. First it was Jonathan Lucroy going down with a broken pinky, then on Friday, Jason Castro blew ...
February 28, 2011
Most of the questions the New York Yankees have this spring training surround their starting rotation. Will A.J. Burnett show signs of bouncing back, and who will win the ...
February 4, 2011
When talking about Andy Pettitte, it's only fitting to thank God. And thank God that baseball's version of "Favregate" came to a quick conclusion. As most of us know by ...
February 1, 2011
The New York Yankees have signed 35-year-old Freddy Garcia to a minor league contract, according to multiple reports. Garcia was 12-6 with a 4.64 ERA, a 1.38 WHIP, and averaged ...
January 31, 2011
With January winding down and February approaching, it's time to get into fantasy baseball mode. As we go through February and head towards March and everyone's fantasy draft, we will start ...
January 24, 2011
Just as often as I admit I was right about a prediction or something I wrote about, I admit when I was wrong about something. And I have to admit, ...
January 20, 2011
Before we get to the New York Yankees and Andruw Jones, can we first talk about the press conference they held yesterday to announce the Rafael Soriano signing? ...
January 13, 2011
Here is what I wrote in my "Where Do The Yankees Go From Here?" post back in early December: "What I can see the Yankees doing if they don't bring back ...