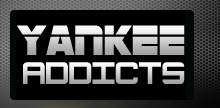 April 7, 2010 · Tom Au · Jump to comments
Article Source: Bleacher Report - New York Yankees
Some of his individual statistics don't look all that impressive. But a relatively new Yankee, Nick Swisher is quite a "package."
One would expect that from the first round 2002 pick of the Oakland A's "Moneyball" drafting process. In fact, Swisher finished with A's teammates Huston Street (the ultimate winner) and Joe Blanton in the top 10 vote-getters for rookie of the year in 2005.
His 2009 batting average was only .249, but his on base percentage was a healthy .371, because his 97 walks led the Yankees by a wide margin last year. He had decent power too, with 35 doubles and 29 home runs in less than 500 at bats.
In 2006, the last year the A's went to the playoffs, he had the team's second-highest OPS (on base plus slugging percentage) behind only hireling Frank "Big Hurt" Thomas.
But it's pitch selection that may be his greatest attribute. Last night, "Swisher worked [Boston Red Sox reliever Hideki] Okajima for 11 pitches before grounding out," according to the ESPN recap.
This tiring of Okajima paved the way for a Yankees' eighth inning rally that scored the game-winning run against Boston's vaunted "set-up" man.
Although he is no great shakes as a fielder, Swisher can play both right field and first base, giving the Yankees greater flexibility with the rest of the line-up. He had his big opportunity last year after starting right fielder Xavier Nady's injury.
Apparently, Swisher can also pitch. He did so last year in a one inning stint against the Tampa Bay Rays, striking out one, with high a "K/9" rate of 9.00. This saved relievers one inning.
More to the point, such a player could allow the Yankees to rest a starter for an inning without taking him out of the game, by having the starter switch positions with Swisher.
The Yankees have a number of "multiple threat" players, of which Swisher is the latest one. He does some things better than others, but his versatility in a wide variety of roles could be a major asset for some years to come.
Read more New York Yankees news on BleacherReport.com