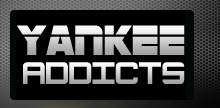 June 4, 2009 · Harold Friend · Jump to comments
Article Source: Bleacher Report - New York Yankees
Modern baseball fans that evaluate baseball players using statistical methodologies recognize the value of Nick Swisher, who has a .244 career batting average, a .356 on base average, and a .456 slugging average.
Dan Szymborski of the Baseball Think Factory, using the 2009 ZiPS In-Season Projection Tool, concludes that in 2009, Nick will bat .251, with a .368 on base average and a .480 slugging average.
Paul O'Neill Has Become Overrated
The last time the New York Yankees were World Champions, their right fielder was Paul O'Neill, who has become a highly overrated player.
O'Neill batted .288, with a .363 on base average and a .470 slugging average.
With the exception of batting average, which knowledgeable fans know is a vastly overrated statistic, there is not a statistically significant difference between the OBA and SA of Nick and Paul O'Neill.
Nick Swisher Hold His Own
Breaking down OBA, Nick Swisher has a base on ball percentage of 14.2 percent, compared to O'Neill's 10.9 percent.
It is only because O'Neill has a higher batting average -an overrated measurement—that his lifetime OBA is slightly higher than Nick's.
A Strikeout is Just Another Out
Nick has a 25.8 strikeout percentage while O'Neill's is 15.9, but that is misleading.
Knowledgeable baseball people know that a strikeout is just another out.
It was once believed that one of the greatest achievements was Joe DiMaggio hitting 361 home runs and striking out 369 times, but careful analyses reveal that the accomplishment is only of passing interest and probably a statistical anomaly.
Batting Average on Ball in Play or BABIP
BABIP (Batting Average on Balls in Play) is a revealing statistic.
Nick has a .280 BABIP, while O'Neill's was .311, but a weakness in BABIP is that it is a batting average related measurement.
The data are not available for O'Neill, but Nick Swisher offers at only 17.4 percent of pitches out of the strike zone. Albert Pujols swings at 22.0% of pitches out of the strike zone.
Nick Swisher and Albert Pujols
When Nick Swisher puts a ball in play, there is a 45 percent chance it will be a fly ball, and there is a 14.7 percent chance it will be a home run.
The data are not available for O'Neill, but when Albert Pujols puts a ball in play, there is a 39.1 percent chance it will be a fly ball, and there is a 20.2 percent chance it will be a home run. Nick holds his own against the best.
With respect to Win Probability, Clutch reveals how much better or worse a player does in high leverage situations. Nick has a Clutch rating of -0.68. O'Neill has a clutch rating of 4.55,
First-Pitch Strikes
When Nick Swisher is batting, 53.2 percent of the first pitches he sees are strikes.
Pitchers know that Nick is one of the most disciplined batters in the history of the game, and they don't want to fall behind in the count.
They realize that there is a 14.2 percent chance Nick will work out a walk, and of even greater significance, when he makes contact, there is a 45 percent chance he will hit a fly ball, and a 14.7 chance it will be a home run.
Paul O'Neill Faced Armando Benitez
Paul O'Neill was a decent player, but the Yankees are fortunate to have acquired the services of a player as talented as Nick Swisher.
Old time fans, eschewing statistical measurements for subjectivity, point to O'Neill's at bat in the ninth inning of Game 1 of the 2000 World Series, when he faced Armando Benitez.
Injured Hip
O'Neill had hurt his hip late in the season. He had zero extra-base hits his last 58 regular season at bats. Joe Torre pinch-hit for him in the first game of the playoffs against Seattle.
With the Yankees trailing the Mets, 3-2 in the ninth inning of the World Series opener, O'Neill came to the plate with one out and the bases empty. Torre stuck with him.
Armando Benitez kept throwing 100-mph fastballs on the outside corner and O'Neill fell behind, one ball and two strikes.
O'Neill could barely get his bat around, but he had too, so he did. He kept fouling off pitch after pitch, telling himself that a walk was as good as a hit. There was no chance he would hit a home run.
The count went to 3-2, and on the tenth pitch Benitez missed.
O'Neill had worked out a walk to put the potential tying run on first. It was one of the guttiest at-bats ever seen in a clutch situation.
Joe Torre knew Paul O'Neill. "You could tell that he made up his mind that he wasn't going to give up."
Joe didn't use any statistic to reach that conclusion.
References:
Olney, Buster. The Last Night of the Yankee Dynasty. New York: Harper Collins, 2004.