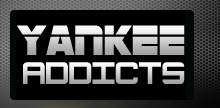 February 23, 2010 · Bronx Baseball Daily · Jump to comments
Article Source: Bleacher Report - New York Yankees
Newsday ran down a list of Nick Johnson 's injuries that he's incurred over his career. I'm not going to copy that list word for word exactly, but they should get all the credit for this post.
I just think they way they laid it out was poor and the information is just wrong in one instance (they said he was injured in his second game of the season in 2009 after he had already played in 111 games?), so I thought I'd clean it up for you.
2000 – Strained muscle in his right hand checking his swing. Out entire season .
2002 – Bone bruise in left wrist occurred during a caught line drive. Out 24 games .
2003 – Stress fracture in his third metacarpal bone in his right band. Out 61 games .
2004 – Lumbar strain. Out 46 games . Returned, fractured right cheekbone. Out remainder of season from August 20th on .
2005 – Suffered right heel contusion trying to avoid a tag. Out 24 games .
2006 – Fractured right femur in a collision on September 23. Out remainder of season and entire 2007 season .
2008 – Injured right wrist tendon sheath swinging a bat on May 13. Out remainder of the season .
2009 – Strained right hamstring. Out 15 games .
Thoughts : Nick Johnson is injured a lot. At times I've glossed over his injury risk because to me, I'd rather have the fully healthy 31-year-old with a bad past than the 36-year-old currently sporting bad knees which need to be drained multiple times even when healthy(which would be Hideki Matsui ). But Johnson has missed about four full seasons worth of games. There is no way to deny that is a lot.
A lot of these injuries seem to be of the freak nature and as a full-time DH he should be able to cut down the risk of many of those. But the fact that there are so many does give you the feeling that he's a little brittle. Hopefully that's not the case.
Bottom line, is there a risk that Johnson will spend time on the DL in 2010? Absolutely.
But, the Yankees really like Johnson's bat and are being smart minimizing that risk by using him as the DH. There is also a risk when it comes to every player, I already pointed out Matsui's knees, but few remember that Johnny Damon didn't finish game six of the World Series.
It was a leg injury and didn't seem too serious, but it could have been possible that he missed game 7 and it would be hard to argue that at 36-years-old those things won't become more frequent during the remainder of his career.
Related Stories
Read more New York Yankees news on BleacherReport.com