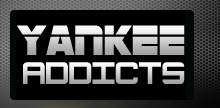 April 2, 2010 · Bronx Baseball Daily · Jump to comments
Article Source: Bleacher Report - New York Yankees
The oft-injured Nick Johnson is reminding the Yankees just how brittle he is this spring training. Johnson has already missed time because a bad back earlier this spring and on Friday he left the game early after fouling a ball off of his right knee.
It seems a little too early to tell if he'll land on the DL or not, but so far it doesn't seem that this is DL-worthy. He's already been listed as day-to-day , but he won't play tomorrow and Joe Girardi said on air during the game that it's too early to tell if he'll be ready for the season opener against Boston on Sunday.
Even if this turns out to be nothing, it is troubling to see how easily this guy gets hurt. It might be a freak thing, but it didn't take much to force him to miss time a few days earlier. He was swinging in the batting cage, his cleat got caught in the ground, and he jarred his back. This time it was just a foul ball, and while that can claim anyone, a lot of players are usually able to walk it off.
Juan Miranda may see more time in the Bronx than we expect this year. What are your thoughts?
Read more New York Yankees news on BleacherReport.com