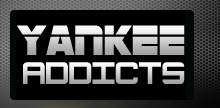 February 13, 2010 · Perry Arnold · Jump to comments
Article Source: Bleacher Report - New York Yankees
Nick Johnson is the presumptive replacement for Johnny Damon in the two hole for the New York Yankees as Spring Training is about to open.
Johnson was signed as a free agent after Hideki Matsui was let go as the Yankees DH. So some will speak of Johnson replacing Godzilla.
But Johnson is not the kind of hitter that Matsui was and will not hit in the five or six spot in the order.
Johnny Damon has also departed. Damon hit in the two hole last season and Johnson will take that spot.
Some critics have argued that Johnson is too slow and will hit into too many ground balls to hit behind Jeter. Those voices argue for Curtis Granderson to hit behind Jeter or possibly to lead off with Jeter going back to the two spot from which he has hit most of his career.
But one must analyze Johnson. Many writers have spoken of his incredible on base percentage.
Last season, two players had higher OBPs. They were Albert Pujols and Joe Mauer. Not bad company for Johnson to keep.
Johnson's career OBP is .402. But there is more than just OBP.
Johnson also has a career OPS of .849 and a career OPS+ of 125.
If you take him on a 162 game average he would figure to strike out 110 times. But he would also walk 102 times in that 162 game average season.
By contrast Johnny Damon has a career OBP of .355, an OPS of .794 and a career OPS+ of only 105.
So for his career Damon is only slightly above average in OPS+ and Johnson is 25 points higher there.
When you consider that Damon was truly a defensive liability in left field and that the Yankees were probably thinking of Johnny as the DH when Matsui left, the Yankees will be better off with Johnson than with Johnny.
If Johnson can stay injury free, Yankee fans should delight in the number of times he gets on base and the opportunities he gives Mark Teixeira and Alex Rodriguez to drive in runs.
Read more New York Yankees news on BleacherReport.com