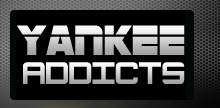 February 12, 2010 · Bronx Baseball Daily · Jump to comments
Article Source: Bleacher Report - New York Yankees
Earlier this offseason, Alex Rodriguez said that any player who works with Yankees hitting coach Kevin Long has a chance to improve their batting average 10 or 15 points. Well, that is good news for Nick Johnson if he is correct as Johnson and Long have already started working together in preparation for the season.
In a NY Post story by George King we find out that Johnson flew to Arizona last week for a two-day session with Long. The two worked primarily on Johnson's feet. Long wanted to make sure that Johnson was well prepared to mash inside pitches that would allow him to pull the ball to take advantage of the short porch in right field.
"Being ready to hit from pitch one and staying more aggressive," Johnson said of Long's message.
"We worked on trying to keep his back foot [left] in place, trying to keep it from flying back," Long said of Johnson's approach. "When it moves he collapses the inside right away. That takes away the inside of the plate. We talked about Yankee Stadium and figured we might want to address that."
"I never used my legs in the past," Johnson said. "It felt good to work on that."
It doesn't sound like Long is trying to change Johnson too much. He is just preparing him to take advantage of inside pitches which he'll be able to pull. He's already an eight-year veteran at this point so nobody should expect a huge changes. But if Arod is right, a 10 or 15 point increase in his batting average would be great and the short porch could help his slugging.
Part of the reason I was happy to see Johnson sign with the Yankees is because I felt like he is primed for a career year. With Long's help I certainly think it is possible.
Where do you stand? Is Johnson ready to break out or is he preparing himself for club-Pavano?
Read more New York Yankees news on BleacherReport.com