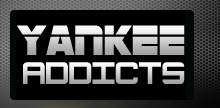 May 24, 2009 · Jordan Schwartz · Jump to comments
Article Source: Bleacher Report - New York Yankees
Between 1996 and 2006, it seemed like the Yankees were in first all the time. But over the past two-and-a-third seasons, New York has been the top team in the American League East for just five total days.
After running off 10 wins in 11 games, the Bombers missed a perfect opportunity to take the lead in the standings for the first time since April 2, 2008, when they fell 4-3 in 11 innings to the Philadelphia Phillies.
Here are the grades from Sunday's frustrating loss at Yankee Stadium.
Joe Girardi, Manager: (D) When I returned from a 10-day trip to Israel on Thursday, friends and family told me that the Yankees had transformed while I was away. The new Pinstripes were a team that bunted, came up with clutch hits and won games in dramatic fashion. Well, I didn't see that on Sunday.
After tying the game in the ninth, the Yankees had a runner at first with no one out. Instead of having Hideki Matsui attempt to sacrifice Melky Cabrera into scoring position, Girardi had Godzilla, who's 6 for his last 42, swing away. He struck out.
The manager then pinch hit for Francisco Cervelli, who was 1-3 and has actually been a nice surprise batting .306, with Nick Swisher, who is 7 for 61 in May. He grounded out.
That brought up the speedy Brett Gardner with two outs and the winning run at third. With the infield back and Gardner hitting just .244, Girardi could have gotten creative and ordered a squeeze play, but of course he didn't and Gardner grounded out, sending the game to extra innings.
In the 10th, the Yankees put the first two men aboard for Mark Teixeira. With three infielders playing deep on the right side and the third baseman behind the bag, Teixeira could have laid down a mediocre bunt to get the winning run to third with less than two outs. Instead, he grounded into a double play.
The Phillies were then able to intentionally walk Alex Rodriguez because Girardi had pinch run for Robinson Cano with Ramiro Pena in the ninth. Pena did steal second and scored the tying run on Cabrera's single in that frame, but Cano has some speed too and probably could have done the same thing.
New York paid for the move as now it was Pena and not Cano up with the game on the line. Pena flied out to center to end the threat.
Derek Jeter, SS: (A) The Captain was 3-5 and stole a base but the guys behind him failed to bring him home once.
Johnny Damon, LF: (A) Damon was 2-5 with an RBI double in the third.
Mark Teixeira, 1B: (A-) Teixeira hit a broken bat homer in the sixth but he couldn't get the job done with the game on the line in extra innings.
Alex Rodriguez, 3B: (D-) A-Rod was 0-4 with an intentional walk and struck out three times against Cole Hamels.
Robinson Cano, 2B: (C-) Cano was 1-4 and we unfortunately weren't able to see what he could've done at the plate in the 10th.
Melky Cabrera, CF: (A+) Cabrera has been outstanding of late. He didn't pick up his fourth walk-off hit of the year, but he did tie the game with an RBI single off Brad Lidge in the ninth. That was just one of his three hits and Cabrera is now leading the team with a .328 average.
Hideki Matsui, DH: (F) Godzilla has been terrible of late. On Sunday, he was 0-5 with two strikeouts and left four men on base.
Francisco Cervelli, C: (A-) Cervelli doubled in three at bats and scored but he was 0-2 throwing out base stealers.
Brett Gardner, CF: (C-) Gardner was 1-4 and was caught stealing.
Ramiro Pena, PR-2B: (C) Pena stole second and scored when he pinch ran for Cano in the ninth but then he couldn't come through in the clutch when he was forced to bat in the 10th.
Nick Swisher, PH: (F) Swisher grounded out for Cervelli in the ninth and is now hitting a more Swisher-like .225. Xavier Nady can't return soon enough.
Kevin Cash, C: (F) Another result of Swisher pinch hitting for Cervelli was that Cash was forced to take over as catcher in extra innings. He allowed Chase Utley to steal second in the 11th, which resulted in Utley scoring the game-winning run on Carlos Ruiz's double. Cash also lined to short to end the game and is now hitting .059.
CC Sabathia, SP: (B+) Sabathia lost the pitcher's duel to Hamels, but he still turned in eight strong innings, during which he gave up just three runs and nine hits, but most importantly, he didn't walk anybody.
Jose Veras, RP: (B) Veras threw more balls than strikes, but he pitched a scoreless ninth.
Mariano Rivera, RP: (B) Mo didn't give up a run in the 10th, but because "The Greatest Reliever Ever" can only pitch one inning at a time…
Brett Tomko, RP: (F) Tomko came on in the 11th and surrendered the game-winning run.
Yankees Overall Grade: (C-) New York not only missed out on a chance to jump into first place, but the Yanks also lost an important rubber game to the defending World Champions. Now they fly out to Texas to take on the West leading Rangers and New York needs to take two of three.
Jordan Schwartz is Bleacher Report's New York Yankees Community Leader. His book "Memoirs of the Unaccomplished Man" is available at amazon.com, barnesandnoble.com, and authorhouse.com.