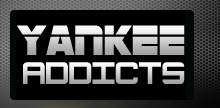 April 22, 2009 · Gary Marchese · Jump to comments
Article Source: Bleacher Report - New York Yankees
The New York Yankees outlasted the Oakland Athletics today by a score of nine to seven. Melky Cabrera hit a walk-off home run in the fourteenth inning, to send the Yankeees into their off day happy. CC Sabathia got the start and struggled but the boxscore looks worse then it was. He pitched six 2/3 innings, giving up seven runs on six hits, six runs being earned. He gave up four walks and had two strikeouts. His main problem has been his control, but he will get it together. The best thing he does, though, is to give the Yanks some length.
The bullpen was outstanding in this game, with Phil Coke getting out the one guy he faced. Jon Albaladejo and Mariano Rivera each pitched scoreless innings. Damaso Marte pitched one-third of an inning with one walk and strikeout, Edwar Ramirez pitched one and one-third scoreless innings giving up a hit and walk. Jose Veras was the star today, as he had been struggling, but he pitched three and one-third scoreless innings today. Giving up only a walk, he had four strikeouts.
The offense was led by Melky Cabreras with two home runs, and Johnny Damon was three for five with two walks. Mark Teixera, Hideki Matsui, and Jorge Posada each had two hits. Cano, Matsui, Teixera, and Swisher each had an RBI. The offense seemed anemic though, after the seventh inning, until Melky hit the walk-off home run.
This was really a wild and crazy game, weird plays and all, but it was exciting win, though. The Yankees really needed to win this game heading into Fenway. The Red Sox won their sixth in a row earlier and are gunning for their seventh in a row tonight. The Yankees really are playing well, other than in the games where Wang pitches.
Chien-Ming Wang will pitch tomorrow in Tampa and we will see what happens, but unless he just dominates, I see him going on the DL and Phil Hughes getting called up. I will try and post the matchups for the Boston Series later.
Derek Jeter played in his 1000th game today, so congratulations to him.
Jorge Posada caught all fourteen innings and threw out a guy in extra innings, so that was a good day for him.
I wonder if Melky Cabrera will get the start on Friday in CF?? I know I would play him and see if he keeps hitting.
If you haven't checked out Kim Jones' blog, please do, it is a must-read. She does a great job not only on the YES network, but with the blog as well. The link is: http://kimberlyjones.mlblogs.com/