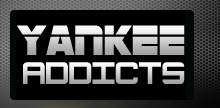 February 28, 2013 · Gary Ousdahl · Jump to comments
Article Source: Bleacher Report - New York Yankees
Is it inevitable that the New York Yankees will hit fewer home runs in 2013?
According to MLB.com and Robinson Cano, expectations haven't changed one bit.
I'm gonna tell you one thing: this game can change. Anything can change in one second, Cano said. There's a lot of guys here who have power. We have Hafner, we have [non-roster invitee Dan] Johnson, you have guys that have power.
With Curtis Granderson likely out for at least 10 weeks with a fractured forearm, Brett Gardner will be the Yankee center fielder until early May.
Granderson only batted .232 for the Yankees last year, but he still hit 43 home runs and totaled 106 RBI and 102 runs in 596 at-bats.
It's hard to replace a guy like [Granderson], Cano said, but other guys can hopefully step it up and do the job and help the team win some games. Sometimes you don't need a home run to win a game. There's a lot of ways you can win a game.
Gardner, on the other hand, suffered from injury most of 2012, but still managed to hit .323 in 31 at-bats. However, when healthy, Gardner can get on base, swipe bags and create run-scoring opportunities.
The Yankees are likely to hit a lot fewer than the 245 home runs they had last season.
Not that they won't hit their fair share of homers, but the lineup without Granderson will surely lack that extra punch in the middle of the order.
With the lack of offensive production from overpaid third baseman Alex Rodriguez and the loss of Nick Swisher, Russell Martin, Raul Ibanez, Eric Chavez and Andruw Jones, it's no question the team will rely less upon the long ball this year.
"We've talked about it, we're probably not going to hit as many home runs as we did last year," Girardi said. "We have more speed. We're going to have to rely on our speed more, no doubt about it."
Though the Yankees strategy may change a little, the team still looks to be competitive with a decent starting rotation and lineup and the pockets to add pieces if necessary.
Read more New York Yankees news on BleacherReport.com