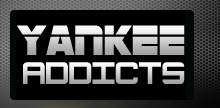 News published by
April 21, 2013
Nobody plays the game like Derek Jeter does, and regardless of whether you're a Yankees fan, if you're a lover of baseball, you appreciate his approach to the game and ...
March 15, 2013
Ichiro Suzuki is the greatest Japanese baseball player to ever play in the United States.Before we get into this, let's take a brief look at some of the storylines for ...
February 28, 2013
Is it inevitable that the New York Yankees will hit fewer home runs in 2013?According to MLB.com and Robinson Cano, expectations haven't changed one bit.  I'm gonna tell you one ...
January 29, 2013
According to ESPN.com and the Associated Press, Yankee captain Derek Jeter worked out on a baseball field Monday for the first time since breaking his left ankle last October.The 38-year-old ...
January 1, 2013
New York Yankees outfielder Curtis Granderson is in a very interesting situation going into the 2013 season.  Granderson, who will be turning 32 in March, will most certainly be looking ...
December 27, 2012
Update: Jon Heyman of CBS Sports reports Matsui will retire.According to the Japanese news outlet Sanspo.com, Hideki Matsui is seriously considering retiring and staying in his native Japan.  After being ...
December 27, 2012
Ken Rosenthal of Fox Sports recently reported that Matt Diaz has signed a minor league deal with the New York Yankees.The deal could potentially be worth up to $1.2 million ...
December 23, 2012
The 37 eligible candidates for Major League Baseball's 2013 Hall of Fame without a doubt make up the most intriguing ballot of players we've seen in recent history.Not only because ...