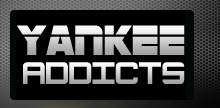 January 5, 2012 · Michael Moraitis · Jump to comments
Article Source: Bleacher Report - New York Yankees
As unlikely as it sounds, the New York Yankees will pretty much stand pat this offseason with the exception of bringing back a few key players from last season and some low-risk players.
No big splash, no front page headline. General manager Brian Cashman has made it abundantly clear the Yanks will not make anymore mistakes the likes of A.J. Burnett or any other past figures who have failed their contract in the Bronx.
It's certainly a new era in the history of Yankees baseball.
Gone are the days when George Steinbrenner, with an itchy trigger finger, would have made a deal no matter what luxury tax was present. It simply didn't matter for "The Boss" as he always did what he needed to in order to win.
Now, it's not to say every move he made actually improved the team, but he definitely can't be criticized for not trying.
The Yankees can't be blamed for pushing out the same roster either. There just wasn't enough out there in the free-agent or trade markets to try and lock up long term.
Instead, there were a bunch of potential Burnett's or even Kevin Brown's that would handicap the team moving forward.
Not to mention, the Yankees have a very impressive array of young players in their farm system, much too promising to trade away on a whim. It probably wasn't easy for a team that is known for doing that, but Cashman made sure he held himself back.
So the single thing that Yankees fans were dreading is happening. The team will enter 2012 with most of the same faces from last season, and all the same questions that were looming before, during and after the Yankees won the AL East will remain.
Sure, a few younger players will get a chance to tryout for the Major League club, but don't expect any big surprises If you're counting on Burnett to not making the roster. I could give you $16 million reasons why you're wrong.
Looking on the bright side, it isn't often any team starts and ends the season with the same roster. A lot of times, trades come along that nobody expected and if that happens, make no mistake about it, the Yankees will be involved as long as it makes sense.
You can be as grim as you want, but the Yankees still have some of the best trade chips in the entire league ready and able to be sent away for a deal that doesn't exist yet.
In the blink of an eye, this team could change.
Just not yet. And certainly not before spring training 2012.
Read more New York Yankees news on BleacherReport.com