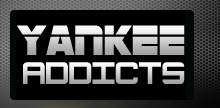 January 25, 2012 · Rick Weiner · Jump to comments
Article Source: Bleacher Report - New York Yankees
Last week, Cole Hamels avoided arbitration with the Philadelphia Phillies and agreed to a one-year, $15 million contract for the 2012 season.
Hamels' agent, John Boggs (no relation to Wade) remarked: "We're happy we've concluded the one-year portion of this…and at the appropriate time, I'm sure we'll have dialogue with the Phillies and continue talking about a multiyear deal."
On the surface, that sounds like an agent who knows that his client's first choice is to remain with the only team he has played for following the 2012 season.
But the Phillies cannot mistake his preference to stay in Philadelphia to mean that he will be willing to give them a "hometown discount"—because that simply is not in the cards. Said Boggs:
"At the appropriate time, Cole is looking to be compensated as one of the premier left-handed pitchers in baseball. Without putting a number on it, we'll leave it at the fact that he's an elite pitcher. Look and see what elite pitchers are compensated with. Hopefully at the end of the day we'll be able to get something done with the Phillies that will reflect that."
Although he is a right-handed pitcher, some will point to the contract extension that Jered Weaver signed with the Los Angeles Angels of Anaheim last season, as an example of what Hamels is worth. Not so fast, says Boggs.
"I don't think it's a parallel. That contract is great for Jered. I understand it. But he took a different path and left a lot of money on the table. He came up through the Angels system and grew up in their backyard. He's pitching where he grew up. That situation appeals to him. It's a similar situation to when I had Tony Gwynn.

Without getting into specifics of what we're looking for, the Weaver situation is unique to Weaver."
What does that all mean for the New York Yankees?
Boggs' comments lead you to believe that at the end of the day, Hamels is going to test the open market to see what his actual market value really is.
Now you might be sitting there saying that the Yankees inactivity via free agency heading into 2012 is a sign of things to come, that the team agents once counted on to inflate the market for their clients will no longer be the big spender on the open market that they once were.
While the Yankees remained virtually invisible in free agency this season, don't expect that to be the case following the 2012 season when Hamels joins a number of front-end starting pitchers as free agents.
Quality pitching is always at a premium, and don't think for a second that the Yankees are not cognizant of the fact that following the 2012 season, they will have at least $30.25 million coming off of their payroll with the expiring contracts of Pedro Feliciano, Freddy Garcia, Andruw Jones, Hiroki Kuroda and Nick Swisher.
With Mariano Rivera reportedly telling Jorge Posada that 2012 would be his last year, the Yankees could have as much as $45.5 million coming off of their 2013 payroll.
An annual salary of around $20 million is appropriate compensation for one of the better pitchers in the sport.
Hamels fits perfectly in line with what the Yankees need—a quality, left-handed starting pitcher who not only has big-game and postseason experience, but one who has succeeded while playing in a park that is prone to giving up the long ball—in 2011, Yankee Stadium saw an average of 1.267 home runs per game, while Citizens Bank Park saw an average of 0.95 home runs per game.
With a top four in the rotation of CC Sabathia, Hamels, Michael Pineda and Ivan Nova, the Yankees' rotation would be as formidable as any in baseball.
Just the thought of that rotation gets the Yankees' collective juices flowing.
Read more New York Yankees news on BleacherReport.com