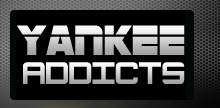 October 31, 2010 · Jess K. Coleman · Jump to comments
Article Source: Bleacher Report - New York Yankees
Nobody doubts the power of Cliff Lee. In nine postseason starts in his career, he has an ERA below two and a SO/BB ratio of above nine. After winning the Cy Young in 2008, Lee has blown away hitters in both leagues, recording earned-run averages below 3.50 for three different teams in two seasons. Toward the end of 2010, he helped the Rangers get to the World Series, mowing down all opposition in between.
For these reasons, the Yankees are going to throw everything they have at Lee during the offseason. Especially after not accomplishing the ultimate goal in 2010, the Yankees are again feeling the pressure to get back to the World Series, and Lee is the man they need.
While this seems to be usual business for the Yankees, things may be a bit different this time. The Rangers will also be in on the bidding, and could pose as a threat to the Yankees.
Regardless, many believe that the Rangers simply don't have the economic power to compete with the Yankees, not to mention the psychological power. However, even with the Rangers out of the picture, the Yankees are going to need to do everything they can to bring Lee aboard. Why? Because there are no other choices.
Looking at the free agent market beyond Lee, there are virtually no other options that will bring talent even close to that of Lee. Instead, the market is full of options that include has-beens, injury prone starters and unknowns.
Hiroki Kuroda and Chris Young are probably the best options other than Lee. However, Kuroda is entering his late thirties, and Young pitched just 20 innings last season. Sure, you can make a reasonable bet on either of these guys, but the Yankees are not looking for the steal-of-the-decade, they are looking for a sure-star.
The next two options are pitchers that Brian Cashman may need to mention in the midst of a fake cough if he wants to convince Yankees fans. Forgive me for bringing them up, but Carl Pavano and Chien-Ming Wang will both be available. Wang is having some injury troubles, and no airline with ties to New York will give a flight to Pavano. Both are out of the question.
Brandon Webb, Justin Duchscherer, Erik Bedard and Rich Harden constitute what I like to call the nostalgic squad. In other words, these would have been great options four years ago, but now they pose serious injury risks, and very minimal production at most.
Kevin Millwood and Pedro Martinez are both reasonable options as well. However, they are going to need time this season to fill out their AARP forms, and won't have much time for baseball. Again, these pitchers would have been great options for the '99 Yanks, but certainly not the '11 club.
Jake Westbrook, a former Yankee, is the last option and arguably the best option past Lee. However, while he may be a solid veteran starter, he has never been the difference maker that the Yankees are looking for.
All other options aside, the Yankees have no reason to be timid with Lee. After all the re-signings the Yankees are set to make, there will be plenty of money left to give Lee the record-breaking contract that he is expected to get. True, not much money will be left over after that, but the Yankees aren't going to need another star besides Lee.
Clearly, Lee is the guy the Yankees are going to target. They want to get back to the World Series, and Lee is the pitcher that can get them there. Nobody expects the Yankees to be quiet during this process, but perhaps there is some extra urgency in this particular deal. Fortunately for the Yankees, it probably wont matter.
For the top analysis of the week, subscribe to Bronx Weekly. To read more thoughts and analysis, check out my blog. Subscribe to my articles and blog posts here. Also, follow me on Twitter, send me an e-mail and check out more at jesskcoleman.com.
Read more New York Yankees news on BleacherReport.com