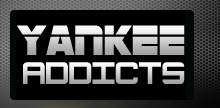 News published by
December 28, 2010
Brian Cashman and the entire Yankees organization are still hiding under the covers. It's been a rough offseason for New York; not necessarily because they missed out on talent, but ...
December 14, 2010
Everyday on the way to school, I pick up a copy of AM New York, a local newspaper in New York City. While sifting through the pages, I see an ...
December 11, 2010
Cliff Lee, Cliff Lee, Cliff Lee. Did I mention Cliff Lee? If you're Brian Cashman, a Yankee fan or anyone living in or near New York, you are probably beginning to ...
November 26, 2010
Since 1901, only nine shortstops age 37 or above hit over .270 in a season. Derek Jeter will qualify as the 10th player in that category next season, and the ...
November 17, 2010
After the 1934 regular season, Jacob Ruppert, then Yankees owner, offered to make Babe Ruth the manager of the Yankees' top minor-league team, the Newark Braves. Ruth's wife and business ...
November 13, 2010
Besides Cliff Lee, Carl Crawford is possibly the most talented free agent on the market. He is near the top in stolen bases every year, he can hit above .300, ...
November 10, 2010
Summing up the power of the American League East is simple. Just consider this startling statistic: In the last four years, three separate teams from the American League East have ...
November 2, 2010
Pretend for a moment that you are the general manager of a Major League Baseball team. You have a bunch of money coming off the books this offseason, and your ...
October 31, 2010
Nobody doubts the power of Cliff Lee. In nine postseason starts in his career, he has an ERA below two and a SO/BB ratio of above nine. After winning the ...
October 25, 2010
If you followed the Yankees in the latter half of the 20th century, you know why the team earned the title "The Bronx Zoo." From fights between Billy Martin and Reggie ...