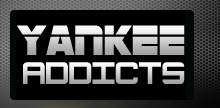 April 24, 2010 · Joseph DelGrippo · Jump to comments
Article Source: Bleacher Report - New York Yankees
It was during last night's game at the Los Angeles Angels of Anaheim that I realized Joe Girardi does indeed hate New York Yankees relief pitcher David Robertson .
Why do I think that? Because after another game which has Robertson finishing off a tough inning by retiring batters with ease, Girardi pulls him in favor of a new reliever to begin the next inning.
Pure lunacy.
I have stated many times that the biggest mistake a manager makes is the constant replacing of an effective reliever currently in the game with a new reliever. Most of the times this is for the sake of "this guy is my 8th inning guy or he is my closer."
What these managers do is replace a reliever who we know how is currently throwing with another reliever who is an unknown that current day. And that is a huge mistake which managers continuously make.
What happens most of the time is that the manager replaces what is likely a win with an eventual loss.
K-Rob is the victim most of the times by Girardi in regards to this overmanaging nonsense.
Last night saw Girardi summon Robertson after a one-out walk from AJ Burnett to Bobby Abreu in the bottom of the seventh inning, game tied 4-4.
Jorge Posada threw out Abreu trying to steal and Robertson struck out Torii Hunter on a 92 MPH fastball up in the zone, literally blowing Hunter away. The coup de grace to Hunter was preceeded by two pin-point fastballs on the outside corner for called strikes.
Robertson raised the bar (and the sight level) on that final pitch, turning the 92 MPH heater into a 95 MPH fastball. K-Rob threw only six pitches.
Then why did Girardi pull him in favor of Joba Chamberlain? Because he is your 8th inning guy? Not a good enough reason, especially when Kendry Morales was coming up that inning, a hitter who virtually owns Joba .
That was also Joba's ninth appearance in 15 games. I know the rules are off him now, but Girardi, without Park in the pen, is leaning more heavily on Joba.
Girardi did the same thing to K-Rob in the opening night game . David came in the bottom of the 6th face Adrian Beltre, allowed a single to tie the game, but then retired the next two batters on weakly hit ground balls.
After the Yankees scored two runs in the top of the 7th inning to take the lead, Girardi brings in Chan Ho Park, who promptly blew the lead and the game.
As in last night's game, Robertson was doing the job, but was removed well before he was finished pitching effectively. You know how he was dealing in that game, but we did not know how the next releiver will pitch that day.
The Yankees began several eyars ago to develop two-to-three inning relievers, Robertson (and Mark Melancon) being the first two test cases. It is about time Girardi lets K-Rob pitch more often when he is in the game.
David Robertson is a quality pitcher who has had one bad outing this season, albeit coming against these same Angels 10 days earlier. But that outing, which resulted in grand slam by Abreu, came when the Yankees were already up by six runs.
That grand slam by Abreu was the only hard hit ball that inning which had an infield single, bunt single and fly ball which dropped in to load the bases.
Every time that Robertson comes in during a tight game, he gets the job done. Last season he had the great Houdini act in Game 2 of the ALDS against the Minnesota Twins.
He had two scoreless appearances in the 2009 ALCS against these same Angels.
I again ask, why does Girardi hate David Robertson?
Read more New York Yankees news on BleacherReport.com