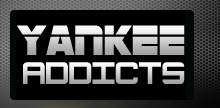 December 15, 2011 · Ely Sussman · Jump to comments
Article Source: Bleacher Report - New York Yankees
ESPN's Buster Olney has been informed that the New York Yankees put a bid in for Japanese superstar Yu Darvish.
If the Yankees ultimately sign Darvish, would they slide him into the No. 2 spot in the starting rotation behind C.C. Sabathia?
Let's go through their options.
A.J. Burnett will likely be around in 2012. General manager Brian Cashman is working to deal the $82.5 million disappointment, but nothing is imminent.
There's no doubt that he has had his struggles in the Bronx.
Since joining the Yankees in 2009, Burnett has led Major League Baseball in wild pitches and ranked unfortunately high in walks and hit batsmen. Moreover, his fastball velocity has consistently declined and opponents are making more contact against him.
Still, Burnett features a nasty knuckle-curve that he was able to harness earlier in his career. He has also been impressively durable over these past three seasons, and it's important to have a veteran who is guaranteed to take the mound every fifth day.
Freddy Garcia is the other graybeard would could potentially back up Sabathia. Following a solid campaign, he is a shoo-in to be in the rotation.
Garcia doesn't overwhelm hitters with a dominant fastball or crisp, off-speed pitches, but he certainly throws strikes.
Although he was effective in 2011, he fared poorly over several previous seasons. The potential to regress is there.
Phil Hughes will get consideration, even coming off a mediocre season.
Dismissing his "dead arm" starts in April, he gave the team a chance to win. The strikeout ability didn't return to him immediately, but given his age, there is no reason to suspect a decline.
If there is one pitcher on the Yankees staff who will definitely improve, it's Phil Hughes.
2011 rookie starter Ivan Nova set the bar very high for himself by going 16-4 in 27 starts.
He pitches to contact and gets through games quickly. He was limited to an average of 95 pitches per start, so he should reach 200 innings if that restriction is lifted.
However, I'm concerned about the adjustments opponents will make against him. Does he have the ability to counter them?
On paper, Yu Darvish is the definite No. 2 because of his sustained success in professional baseball, reportedly excellent array of breaking balls and control.
Not so fast, though.
Can a player who has never played in the States be trusted to co-lead a major league rotation? How will he adjust to pitching every five days instead of on a weekly basis? Is there any reason to believe that he'll be better than Daisuke Matsuzaka, the last big-name pitcher to come from the Far East?
Vote in the poll and share your thoughts below.
Read more New York Yankees news on BleacherReport.com