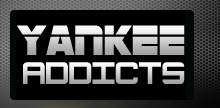 May 13, 2013 · Harlan Spence · Jump to comments
Article Source: Bleacher Report - New York Yankees
When the New York Yankees acquired Vernon Wells on March 26th, they were a desperate team taking desperate measures.
Having lost Curtis Granderson to a fractured forearm in February, GM Brian Cashman was facing the prospect of an Opening Day outfield that included slap-hitting speedsters Brett Gardner and Ichiro Suzuki.
And pretty much no one else.
So the Yankees took a shot in the dark. They agreed to absorb $13 million of Wells' bulbous salary through 2014, despite a pitiable two years in Anaheim where the former Blue Jays star batted just .222 with an OPS of .667.
But Wells has rewarded their investment.
Sprinting out of the gate with a wOBA of .374, he has more than replaced departed free agent Nick Swisher's production in one of the club's maligned corner outfield slots.
Back in March it was assumed that when Granderson returned, Wells would head to the bench to provide some depth and versatility. But his better-than-expected play now presents the Yankees with an interesting dilemma.
Granderson has looked ready to go in four rehab games with Triple-A Scranton/Wilkes-Barre, batting .412 with a home run and three RBI. With Brennan Boesch now demoted, it seems likely that Granderson will be ready before Tuesday's home game against Seattle. That leaves four outfielders for three spots amongst Granderson, Wells, Gardner and Suzuki.
And none of these players really deserve to ride the pine.
Gardner's .329 OBP is less than stellar, but his five stolen bases are tied for the team lead. He has also posted an impressive 3.9 UZR in center field. The fact that all of Granderson's rehab starts have been in right or left suggests that the Yankees intend to leave Gardner in center to preserve their best defensive alignment.
Ichiro has struggled the most out of the Yankee outfielders at the plate, stumbling to a .644 OPS in April before coming alive slightly to post a .734 mark thus far in May. Still, the 39-year-old probably didn't sign his two-year deal with the Yankees this winter expecting to sit.
And manager Joe Girardi has always had a habit of protecting his veterans.
Ultimately, Girardi will favor some sort of outfield rotation in the coming weeks with each candidate playing roughly three games out of four. The fact that each of them can handle at least two of the three outfield positions will aid that endeavor.
One of the four will man the DH spot versus lefties, with regular DH Travis Hafner batting just 3-for-20. Though Granderson, Ichiro and Gardner are all left-handed themselves, the former two aren't neutralized by southpaws. Suzuki, in fact, has been slightly stronger against them throughout his career, especially in 2013 with a .341/.333/.439 split.
Girardi will face a challenge keeping his four starting-caliber outfielders happy and on the field more often than not. But having too much quality is certainly better than having too little. The Yankees will now have a useful bat on the bench to pinch hit for the likes of Jayson Nix and Chris Stewart late in games.
If nothing else, fans can rest assured that the days of Ben Francisco starting—and inexplicably batting fifth—are gone.
Read more New York Yankees news on BleacherReport.com