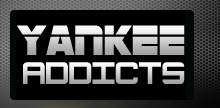 News published by
July 24, 2013
Reports, including one here via Bruce Levine of ESPN Chicago, have circulated the past few days of the New York Yankees and Chicago Cubs discussing a trade that would send ...
May 26, 2013
When New York Yankees first baseman Mark Teixeira hit the disabled list this March with a torn tendon sheath in his wrist, he was part of a steady stream of ...
May 13, 2013
When the New York Yankees acquired Vernon Wells on March 26th, they were a desperate team taking desperate measures.Having lost Curtis Granderson to a fractured forearm in February, GM Brian ...
January 27, 2013
There are still several weeks before the Yankees break their Tampa, Fla., camp and head home to take on the Red Sox on April 1. There's plenty of time left ...
January 23, 2013
In the face of their newfound sense of austerity, the Yankees have been uncharacteristically quiet this off-season, doing virtually nothing to improve themselves or to replace departed stalwarts like Nick ...
December 15, 2012
It would be difficult to argue that for the past three seasons, the best everyday player on the Yankees hasn't been one of their pricey acquisitions like Alex Rodriguez or ...
November 4, 2012
After a brilliant trade by Brian Cashman in December, 2008, the Yankees have enjoyed four seasons of steady production from right-fielder Nick Swisher.But that's about to change.Swisher is a free ...
October 25, 2012
Few would argue the point that the Yankees are the most successful franchise in the history of American professional sports. In the past century, they've won 27 World Championships and ...
October 15, 2012
For the past eight years, the general consensus among Yankee fans has been to blame, and boo, Alex Rodriguez for anything and everything that goes wrong.Team not hitting? A-Rod's fault.Lost ...
October 13, 2012
On the brink of being eliminated on their home field in the deciding fifth game of the ALDS for the second straight year, the Yankees turned to CC Sabathia.The atmosphere ...