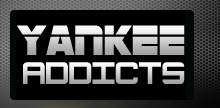 January 23, 2013 · Harlan Spence · Jump to comments
Article Source: Bleacher Report - New York Yankees
In the face of their newfound sense of austerity, the Yankees have been uncharacteristically quiet this off-season, doing virtually nothing to improve themselves or to replace departed stalwarts like Nick Swisher, Russell Martin and Rafael Soriano.
The club can't count on its top prospects for help in 2013. The team's most highly-rated youngsters, Mason Williams, Tyler Austin, Slade Heathcott and Gary Sanchez are all at least a year away from the majors, and as Yankee fans have seen before, that's plenty of time for a lot to go wrong.
So what's an empire to do?
Though they don't project as future all-stars and MVP's, the Yankees do have some twenty-somethings with AA and AAA experience, who may earn—or be forced into—weighty big-league roles. For the team's hopes of a fifth straight postseason appearance to be realized, they'll need worthwhile contributions from at least one or two of the players below.
Austin Romine, Catcher
Thanks to their decision not to match Pittsburgh's two-year, $17 million offer to Russell Martin, the Yankees find themselves headed into spring training without a proven major league catcher. Letting Martin go was the right move. Though, he had effective first and final months in pinstripes, the Canadian backstop was practically an automatic out in the interim, with an OPS of just .662 between May 2011 and August 2012.
Austin Romine was once one of the Yankees' top prospects. He put up wRC+'s of 120 and 119 in 2008 and 2009 in Single-A, but his offensive numbers dwindled in the upper minors, and he lost most of his 2012 season to a back injury.
Still, since Jorge Posada's banishment to the DH spot in 2011, the Yankees seem to value defense above all else behind the plate, and Romine's skills there are considered well above average. The door is wide open for the 24-year-old. He needs only to beat out fringe major leaguers Chris Stewart, Bobby Wilson and Francisco Cervelli for playing time.
If he can't do that, Romine's future as a Yankee will be in serious doubt, especially with Gary Sanchez's star inching over the horizon.
Mark Montgomery, Right-handed Reliever
With Rafael Soriano taking a $28 million tour of the capital, the Yankees now have some question marks at the back end of their bullpen, where they've been fairly stacked the past few seasons.
Mariano Rivera is 43 and returning from a torn ACL. Joba Chamberlain, if he can manage to avoid trampolines, had his elbow reconstructed twice in his young career. David Aardsma has thrown exactly 24 big-league pitches in the past 24 months.
With David Robertson the only real sure thing—and relief pitchers are never a sure thing—odds are the Yankees will be seeking late-inning help at some point.
22-year-old Mark Montgomery has accumulated just 92.2 professional innings, but in that time he's been flat-out dominant. His ERA is miniscule at 1.65, and his WHIP is an even slimmer 0.97. He's walked just 3.4 batters per nine innings while striking out a filthy 14.6.
Montgomery has hardly pitched above Single-A, so it's unlikely he'll start 2013 in the majors. But if he picks up where he left off at Double-A Trenton (1.88 ERA, 0.75 WHIP in 24 innings there last year), and continues to show he's simply too good for the bush leagues, the Yankees will be hard pressed not to call on him if one of their righties goes down.
Ronnier Mustelier, Outfielder
The Yankees' current starting outfield consists of three left-handed hitters who had a combined OPS of just .720 vs. lefty hurlers in 2012.
The team is in clear need of a right-handed option to mix in. If they're unable to acquire that player in free agency or via trade, as they've been so far, they'll be forced to try out one of several internal options to fill the spot held last year by a decaying Andruw Jones.
Cuban defector Ronnier Mustelier has been in the Yankees farm system for two years, batting a combined .324/.378/.497. His production remained steady last year after being called up to Triple-A, where he batted .303, slugged 10 homers and drove in 49 runs in 87 games.
Mustelier is 28, so his numbers against younger pitchers should be taken with a grain of salt. Ask Chris Dickerson and Juan Miranda about that.
But if Mustelier can outshine some pretty pedestrian competition in Tampa, he'll have a chance to fill a key role on the Yankee bench.
Thomas Neal, Outfielder
One of those vying for the same roster spot as Mustelier will be recent waiver acquisition Thomas Neal, who has spent the past seven years in the Giants and Indians systems, finally reaching the majors for a cup of coffee with Cleveland last year.
Since cracking Baseball America's top-100 prospects prior to 2010, Neal has been stuck mostly at the Double-A level, even after being dealt for Orlando Cabrera in 2011. Still, the 25-year-old's numbers there have been consistent, especially when facing lefties, against whom Neal boasts a .382 career OBP and a .303 average.
Neal is a more accomplished defensive player than Mustelier, as well as Matt Diaz and Russ Canzler, DH-type righty bats who the Yankees will also consider. He has experience at all three outfield positions.
If Cashman, Joe Girardi and company prefer a versatile fourth or fifth outfielder who can probably get on base at a decent rate, especially against southpaws, Neal may end up with a fair amount of playing time in the Bronx.
David Adams, Second Baseman / Third Baseman
Best known to Yankee fans as the throw-in prospect who failed his physical and killed a trade that would have sent Cliff Lee to the Bronx in 2010, David Adams has had a rough go of things over the past two years.
After splitting just 29 games between rookie and low-A ball in 2011, the 25-year-old infielder finally got back in track in 2012, posting an .835 OPS, a .377 wOBA and a 133 wRC+ in 86 games at Double-A Trenton. His .295/.378/.448 career batting line in the minors is similarly solid.
Unlike fellow second base prospect Corban Joseph, who faces a Robinson Cano sized roadblock on his path to the majors, Adams has played third in the minors and could get a look from the big club as a utility infielder, with Eduardo Nunez unable to field and Jayson Nix unable to hit.
Adams could spell the oft-injured Kevin Youkilis. The "Greek God" of walks remains the Yankees' only viable option at the hot corner with Alex Rodriguez not set to make his return until mid-season.
Zoilo Almonte, Outfielder
Likely to follow Melky Cabrera's career path of being instantly beloved by Yankees fans due to his unusual first name, Zoilo Almonte is yet another candidate for the right-hitting outfielder spot, which may end up being somewhat of a revolving door throughout the upcoming season.
After he turned some heads last spring with a barrage of long home runs in major league exhibitions, Almonte went on the spend the entire 2012 season in Trenton. His .322 OBP, his 22.7 percent strikeout rate, and his 5.6 percent walk rate were unsightly, but what the 23-year-old lacked in plate discipline, he made up for in raw power, smashing 21 homers in 419 at-bats and slugging .488.
While Almonte seems like a long shot to break camp with the Yankees, a strong early showing at Triple-A could prime him for a mid-season call-up if one or more of the primary outfield choices get hurt or struggle.
Brett Marshall, Right-handed Starter
With Manny Banuelos shelved for the 2013 season as he recovers from Tommy John surgery, Brett Marshall steps in as the Yankees' top near-major-league ready starter.
In 27 Double-A starts in 2012, the 22-year-old Texan posted a solid 3.52 ERA and a 1.28 WHIP, allowing less than a hit per inning. He kept the ball in the park to the tune of a 0.85 HR-per-nine rate, an always valuable skill in the Yankees' hitter-friendly home field.
Projecting as a mid-rotation-type innings eater, Marshall features a low 90s fastball and a legit slider that keeps hitters off balance.
Starting pitching is one of the deeper areas on the Yankees roster. They have six capable starters who they hope will hold the fort for the entirety of 2013, but as fans have seen time and again, a pitching surplus can turn into a dearth in a hurry.
Andy Pettitte and Hiroki Kuroda are a combined 78 years old, Phil Hughes has missed long stretches before and Ivan Nova and David Phelps still have something to prove.
If Marshall continues to pitch well at the Triple-A level, he figures to be the first starter the Yankees will call on from below should the need for an arm arise.
Read more New York Yankees news on BleacherReport.com