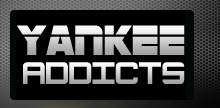 December 5, 2011 · chris brunau · Jump to comments
Article Source: Bleacher Report - New York Yankees
As the starting pitching rotation stands today, I think the New York Yankees have a great chance to win 95+ games, the A.L. East and make a deep run into the playoffs.
Now, I still think they will add another starter before opening day, whether it is Yu Darvish, Mark Buerhle or another player through a trade, but the Yankees CAN be better, even with generally the same rotation as last year.
As of right now, the rotation is likely (not necessarily in this exact order):
CC Sabathia
Ivan Nova
A.J. Burnett
Phil Hughes
Looking at that, it's not great, but you have to like the Yankees chances. They were able to win 97 games this past season with basically that group, but Phil Hughes was hurt so Bartolo Colon was in his place.
Colon was great in the first half, but the clock struck midnight for Cinderella, and he came back down to reality.
As far as this rotation goes, C.C. Sabathia is an ace, so he's guaranteed to give the Yankees close to 20 wins with a great ERA and a Cy Young contention.
Ivan Nova can also earn close to 20 wins, with a sub-4 ERA, and be a solid No. 2 starter.
Next, we have a few question marks. A.J. Burnett has been consistently inconsistent the past few years, and although I don't expect him to be anything great, I expect to see more of what we saw in the ALDS this year. He wants to prove his doubters wrong, and he definitely has the stuff to do it.
Freddy Garcia isn't going to dazzle anyone, but he'll get 10+ wins again, with a decent ERA, and perhaps his most impressive trait is his coolness. Garcia is a pitcher who doesn't ever seem to let anything get under his skin, and that is pretty priceless in a town like New York.
Lastly, we have Phil Hughes. Hughes had a disappointing 2011 season, with a decreased velocity in his pitches, and was even be able to earn a win when the Yankees gave him over 10 runs.
However, I expect him to revert to his 2010 form and gain a good 15 wins. Hughes knows he needs to improve, and I am positive Larry Rothschild will work with him over the winter and in spring training, so that he is able to be No. 4 starter the Yankees need.
As we all know, the Yankees have a deep farm system right now when it comes to pitching. Hector Noesi is essentially the No. 6 starter as of today, and if anything goes wrong, he'll get his shot.
Behind him, are the killer Bs, Manny Banuelos and Dellin Betances, both of whom are very important pieces in the Yankees system.
If Cashman decides to save some money again this offseason and plug in pieces elsewhere, the Yankees should feel pretty good about their shot in 2012.
Read more New York Yankees news on BleacherReport.com