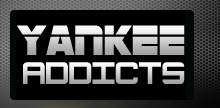 January 26, 2012 · Harold Friend · Jump to comments
Article Source: Bleacher Report - New York Yankees
About one hour before the approach of the 1996 trading deadline, the New York Yankees acquired Cecil Fielder from the Detroit Tigers. In return, Ruben Sierra and minor league pitcher Matt Drews joined the Tigers.
Fielder had been complaining that he wanted to play for a contending team. The Yankees were leading the second place Baltimore Orioles by 10 games entering August.

"I'm just happy to have the opportunity to go somewhere with someone in contention and I'll try to help the New York Yankees win the pennant and the World Series," Fielder said in Detroit. "I feel good about going out there."
Fielder batted .248 with 26 home runs and 80 RBI for the last-place Tigers. As is often the case, money was a factor. The Yankees were now on the hook for Fielder's $2,360,656 for the remainder of the 1996 season and for $7.2 million in 1997.
The Yankees' new designated hitter expressed surprise, not because he was traded but to whom he was traded.
"I'm shocked I'm going to the Yankees," Fielder said. "I didn't think I'd go there, to tell you the truth. I'll just go to work and try to do the best I can for the New York Yankees."
With the Yankees, Fielder hit .260/.342/.495 with 13 home runs. He helped them win the World Series, but after a disappointing 1997 season in which he hit only 13 home runs, only one-third of his 1996 total of 39 with the Tigers and Yankees, Fielder was granted free agency.
A few days ago, Fielder's son Prince signed a lucrative contract with the Detroit Tigers for $214 million over nine years. Prince will earn $23 million in each of his first two seasons and follow that with $24 million each of the next seven seasons.
Prince has been in the majors for seven seasons. He has eclipsed his father by a wide margin.
Comparing their first seven season, Prince Fielder leads Cecil Fielder in every major category, including batting average (.282 to .257), home runs (230 to 161), RBI (656 to 473) and slugging percentage (.540 to .509).
Prince has made and will continue to earn much more money than his father, but Cecil has something that money can't buy (although Yankees haters vehemently disagree): Prince Fielder still needs a World Series ring.
Read more New York Yankees news on BleacherReport.com