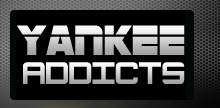 April 21, 2009 · Tom Schecter · Jump to comments
Article Source: Bleacher Report - New York Yankees
CAPTION: With an ERA above 30.00 (yes, really) over his first three starts, Chien-Ming Wang has quickly become the biggest question mark in the Yankees' pitching staff.
One week and seven games further into the 2009 season, the Yankees are sitting rather comfortably at 7-6, one game above .500 for the first two weeks. They've won or tied three of their first four series, including an impressive showing in a three-game road stand against the defending American League Champions.
The hitting has been more than adequate, the bullpen has been solid in most of their big spots, and Alex Rodriguez' return to the lineup may come sooner than the mid-May timetable the doctors originally projected.
Sabathia, Burnett, Chamberlain, and Pettitte have been very, very good, combining for seven quality starts out of their last nine chances.
All in all, the Yankees have a lot of reasons to be optimistic right now, but one big problem has surfaced here in the early going: Chien-Ming Wang has been awful, and nobody really knows how to fix it.
The signs of trouble are everywhere. His arm angle is more three-quarters than over the top, sending his sinker spinning sideways instead of down. He is reportedly shortening his leg-kick off the mound, leading to a rushed delivery.
All of these things are likely due to the same cause: either his right foot—his plant foot—is still bothering him, or he doesn't trust it yet.
No matter which of those things is true, the course is clear: The Yankees need to put him on the disabled list, and I mean pronto.
Wang needs a month in Triple A-Scranton to get used to his mechanics again. Since he doesn't have any options left in his contract, the only way to get him down to the minors without him having to clear waivers (a virtual impossibility) is to put him there on a rehab assignment.
With Phil Hughes available and ready to come up to the bigs, there's no harm in letting Wang take his time and return to form before he steps on the mound in another meaningful game.
Some notes and observations from this week's games…
April 13: Rays 15, Yankees 5
I have a personal mercy-rule when it comes to watching baseball. You can tell almost immediately, over the first two innings, if a pitcher is on his game. Kazmir was on his game on Monday night. Wang wasn't. I turned the game off at 10-1 and didn't lose much sleep over it.
Sadly, I missed the debut of that new middle-reliever named Swisher that we traded for over the winter. Apparently he's also our right fielder. I'm sure I'll get to see him play again, just hopefully not on the mound.
April 14: Yankees 7, Rays 2
I have quite a few nice things to say about this Tampa Bay club. The one I'm going to mention right now is that Matt Garza's ALCS Most Valuable Player award was no fluke.
This is a guy who was born to pitch big games against big clubs. I like pitchers who show emotion when they make a bad pitch and get beat; it's why I tolerated watching the Yankees throw Jeff Weaver out there week after week in 2003. It was obvious he cared.
Garza, obviously, has better command of, well, all of his pitches, so that's an added bonus. No kidding, he's the real thing. Tampa's entire pitching staff scares the hell out of me.
I'd like to apologize to A.J. Burnett. I believe wholeheartedly that he'd have finished his no-hitter had I not sent a few friends text messages telling them to turn on the game.
Sorry, big man. Never do it again.
Third, as much press as Jeter's three-run homer in the ninth inning got, the hit that impressed me more was the one right before his: Brett Gardner drove a breaking ball on a line to the wall in dead-center field, over the head of the inhumanly fast B.J. Upton. Most impressively, he hit that pitch with two strikes, and two outs, in a one-run game in front of a hostile crowd.
Gardner has ice water in his veins. Love this kid. Love him.
April 15: Yankees 4, Rays 3
I'm going to continue to gloat about my prediction for a big season from Andy Pettitte. With the exception of a bad string of at-bats in the third inning (not unlike Burnett's seventh the night before, allowing three straight hits and two runs to tie the game), and Carlos Pena's solo shot in the fourth (Pena, to his credit, owns Andy.
That matchup worries me looking forward to October), the big veteran was right back on his game, pitching into the eighth inning and leaving with the game tied at three.
Jeter did what he always does, it seems, in the ninth inning. So did Mo.
The fun part was watching Cody Ransom score the winning run after a big hit in the ninth.
Also fun was watching Robbie Cano take a two-strike pitch from Andy Sonnanstine and deposit it over the wall about three feet left of dead center on a line. That ball traveled 425 or so feet on a line and could have gone a hundred feet farther had it not collided with the back wall in center field. Hardest hit ball of the year to date.
(By the way, when I write these 'as expected' comments about the big guys, I want you to take them in the following way: Jeter, Pettitte, Rivera, and Posada have been heroes so often it no longer comes as a surprise. They are going up on the wall when it's their time. That's already written.
At the same time, I won't get on them for blowing big spots either. This game is all about the law of large numbers. My thing is, I like to focus more attention on the younger guys around them and see who might join them in 15 years, is all. Cool? Cool.)
April 16: Indians 10, Yankees 2
It's official: Bernie Williams is one hell of a guitar player. Is there anything the man can't do?
Paul O'Neill, David Cone, and Tino Martinez got probably the loudest cheers from the first audience ever to set foot in the new Yankee Stadium. Other well-loved notables: Berra, Randolph, Boomer Wells (who sat in the bleachers for the game!) and Goony Bird Larsen.
Posada hit the first home run. Damon got the first hit. Sabathia struck the first batter out. The Indians put up the first ever nine-spot in the seventh inning and won the first ever game. Cliff Lee took the win. Jose Veras took the loss. Damaso Marte took a whole lot of abuse. My buddy Jon Goldsmith better have taken a lot of pictures.
April 17: Yankees 6, Indians 5
There's something funny going on in this new stadium. Every ball hit to right field looks like it has a chance of leaving the park. Friday, the Yankees took advantage, to the tune of five different solo home runs from Teixeira, Damon, Cano, Melky Cabrera, and finally Jeter to beat the Indians in the second game of the series.
Joba Chamberlain looked a little off, walked five batters and didn't make it through the fifth inning. The bullpen inherited a 5-3 deficit and shut the Indians out the rest of the way (4.1 innings), making up for their less than stellar performance on Thursday.
Bruney continued to be awesome (he has an .045 batting average against him for the season so far) and picked up the win in relief.
Big cause for concern: New York is 1-20 over the first two games of this series with runners in scoring position. But for the good luck of the five solo home runs, this would have been a very different ballgame.
Rivera struck out Mark DeRosa looking to end the game. Mark DeRosa got angry. Mark DeRosa spent the last few years in the National League and doesn't understand that Mo gets that call, every time, on every close pitch, because he's earned them with years of throwing nothing but strikes.
Someone should get DeRosa a copy of that memo.
April 18: Indians 22, Yankees 4
I was at a table at a Cracker Barrel (no kidding) on my way to UConn-Storrs campus when I got an irate phone call from the aforementioned Jon Goldsmith.
"Are you watching this?"
"No, I'm actually in a Cracker Barrel right now. What's up?"
"The Indians just scored 14 runs in one inning!"
I didn't see any of it. But I knew who the starter was. Wang, bless his heart, was apparently only responsible for the first half of those runs. Jon and I yelled into the phone at each other for a few minutes, agreeing how badly Wang needs to go on vacation, and then we hung up.
I got a text message an hour later that read, simply, "20-2."
I don't really want to talk about this anymore, except to say, condolences to Anthony Claggett.
Nobody deserves to get thrown into a shark tank like that on their first day in the big leagues, with the lineup you're facing already smelling blood…well, really, having already devoured a whole live pitcher and hungry for more. Nobody's ever ready for that. Don't blame yourself.
(By the way, kid, next time? The appropriate first pitch is a crop-duster. Put the first batter you see on his ass. Start a brawl. Wake your guys up. Change the momentum before the lead is completely insurmountable.
Yes, this theory is taken directly from hockey. There will be a column about it another time this spring, assuming with crossed-fingers that the Blueshirts can hold on and beat Washington and I get a chance to write about them.)
April 19: Yankees 7, Indians 3
And so, for the third time in as many starts, A.J. Burnett takes the ball after an ugly Yankee loss and…wow, he really walked seven batters? Guy brings a new meaning to the word "unhittable."
Seriously, folks. Six-and-a-third innings pitched, three hits, seven walks. Nolan Ryan would be proud.
I'm not going to rag on Burnett. He's been the best pitcher in the rotation thus far, and he's earning a reputation as a stopper. Between him and Pettitte, and obviously Sabathia, we will get exactly as many quality starts as we paid for. The bullpen will get its rest.
Other happy moments: Posada hits a pinch-hit home run (to right field, the record-setting 20th between the two clubs in four games) to give the Yankees the lead in the seventh; Cody Ransom comes up with the bases loaded and two outs in the eighth and benefits from that right field-blowing wind another way…the wind pushes a potential foul ball fair down the left field line for a bases-clearing, game-icing double.
So…4-3 for the week, and even though the three losses were all lopsided, this reporter is not worried. But he does want to see Wang skipped for his next turn in the rotation, and he expects to see his boy Philly Hughes in the Bronx pretty soon.
NEXT UP: Two vs. Oakland (after last night's rainout), and three big games in Fenway this weekend. Stay tuned…