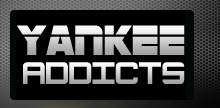 April 23, 2009 · Gary Marchese · Jump to comments
Article Source: Bleacher Report - New York Yankees
Chien-Ming Wang threw seven innings giving up nine hits, five runs, four of which were earned.
I said earlier he had no walks and eleven strikeouts and threw 91 pitches, 70 for strikes. The question is what does all of this mean? Nothing, really, as it is hard to judge a guy when we didn't see him pitch, also he was pitching to minor leaguers with minor leaguers fielding behind him.
The best thing for him is that he got up to ninety-one pitches as he needs to build that arm strength, with him averaging ninety-one that is still down from his normal. Although he is expected to rejoin the team in Boston tomorrow, I would expect to see Phil Hughes pitching Tuesday in Detroit.
Wang needs to make at least a couple of more starts down there getting his pitch count up to the 100s. Once he gets his velocity back, he will be ready to rejoin the rotation.
If Phil Hughes is pitching well, how do you swap out Hughes for Wang? I don't think you would then, you would probably use Wang as the long man for now and see how it all plays out.
Phil Hughes has looked good, but that is AAA. He still has to prove it consistantly at the Major League level. I am a big fan of Hughes and I think this is a good second chance for him—if he gets it. He is healthy and as long as he stays healthy he is poised for a big year.