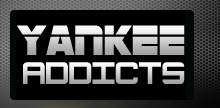 May 17, 2009 · Andrew Zercie · Jump to comments
Article Source: Bleacher Report - New York Yankees
For the first time since 1972, the New York Yankees have won three straight games in walk-off fashion and, for the second straight day, the fans went home happy via a home run in extra innings.
On Saturday, Alex Rodriguez's two-run shot over the left field wall secured an 11th inning win over the Minnesota Twins.
On Sunday, it was deja vu all over again, as Johnny Damon sent a solo blast into the right field seats, giving the New York Yankees a 3-2 win in the 10th inning.
The win was the Yanks' fifth straight—a season-best winning streak for the Bronx Bombers. It also punctuated the fact that, in the last week or so, the New York Yankees have played the kind of baseball that has been expected of them all winter long.
The game showcased some strong starting pitching from AJ Burnett, some solid rally-killing work from Jonathan Albaladejo and Brett Tomko, and two shutout innings from Mariano Rivera and Alfredo Aceves.
To see the bullpen prevent the opposition from scoring was a nice development. The relief corps has been rightly maligned for much of the season, but the talent in the bullpen compares favorably to other top relief units in MLB. Perhaps these guys have collectively turned a corner.
The Yankees' lineup was stymied by Kevin Slowey of the Twins, who looked oustanding through the first six innings of the game. A few different times, the Yankees put runners on base and used stolen bases and bunts to move them into scoring position, only to see these scoring chances get squandered by Slowey's great location in the strike zone. He made some Yankees look lost at the plate.
In the seventh, as Slowey tired and the Yankees trailed 2-0, the lineup finally put together a successful rally, beginning with another HR off the bat of Alex Rodriguez. Melky Cabrera added a sacrifice fly to tie the score.
Damon, who has been the Yankees' best hitter for about a month, hit his 10th HR of the season to win the game, putting him on pace for a ridiculous 46 HR. While it would be preposterous to assume that Damon will continue to hit at that pace, it is apparent that his swing is tailored for the new Yankee Stadium. He will set a career-high in HR this season, barring injury.
The Yankees get one more shot at the Twins on Monday night, hoping to extend their winning streak to six games. Andy Pettitte takes the hill for New York.
With Chieng-Ming Wang and Brian Bruney returning soon to The Bronx, and Jorge Posada and Xavier Nady on the mend, the Yankees' 2009 season looks to be on the upswing.
Finally.