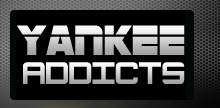 April 26, 2010 · Christopher Chavez · Jump to comments
Article Source: Bleacher Report - New York Yankees
The New York Yankees were greeted with open arms by President Barack Obama at the White House. The last time the Yankees visited the president at the White House, Bill Clinton was in office and Barack Obama was a nobody on his way to stardom.
Now the two are at the top of their leagues.
The Yankees have won all but one of their series so far since winning the big one in October. Barack Obama is doing well in office, and his hard work with health care looks to be paying off.
Waiting nine years seemed like a lot for Yankee fans, but Barack Obama joked that nine years was nothing compared to the Cubs. The Cubs have no scheduled visit with Obama and have not met a president since after winning in 1908.
Derek Jeter, Mariano Rivera, Jorge Posada, and Andy Pettitte have all met three different presidents. They met Bill Clinton in 2000, after defeating the rival New York Mets. Then, they encountered President Bush when he threw the first pitch in the 2001 World Series.
Now, Obama gets a chance to meet baseball's best. Derek Jeter gave the Republican president advice not to bounce the ball on the throw to the plate.
Obama was not in office when his favorite White Sox were the champions. However, he admitted that he admires the Yankees' approach to winning year in and year out, so maybe there is a Yankees fan deep down.
Obama honored Mariano Rivera, Jorge Posada, Mark Teixeira, and Joe Girardi for their hard work on and off the field. The Yankees also paid a visit to the Walter Reed Hospital before meeting Obama and were applauded for the act.
Obama has had his mistakes, especially when it comes to certain baseball comments. When asked on the radio about his favorite Chicago White Sox player, Obama beat around the bush and could not directly answer the question. This time he made a mistake when he said to CC Sabathia, "I saw your no-hitter."
Sabathia almost had a no-hitter, but not quite. It was just a little slip by Obama—there is no need to go ape crazy over his mistake. After all, he's only human.
Obama was presented with a No. 27 jersey autographed by the members of the championship team. My guess and the guess of many is that Obama will be seeing the Yankees again soon. Next time, he will receive a No. 28 jersey.
The only question is—how soon will this happen?
Read more New York Yankees news on BleacherReport.com