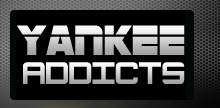 April 23, 2010 · Bronx Baseball Daily · Jump to comments
Article Source: Bleacher Report - New York Yankees
Yesterday was indeed a weird day for the Yankees. First there was Alex Rodriguez 's run-in with Oakland pitcher Dallas Braden after he stepped on the mound returning to first after a foul ball, then there was a triple play, and all of this happened in just barely over two hours.
Yes, a Yankee game lasted only two hours and seven minutes. Oh, and to make things weirder, the Yankees lost with CC Sabathia on the mound.
In case you missed yesterday's triple play, here is how it happened. The Athletics had Derek Barton on second and Ryan Sweeney on first, Kurt Suzuki hit a hard groundball right at A-Rod who was close to the bag at third. A-Rod gobbled up the grounder, fired over to second, and Robbie Cano made a quick throw to first. Triple play. Watch the video here .
A-Rod on starting the play : "The ball was hit to my right, I took a couple of steps, stepped on the bag, and just threw a little Hail Mary to Robbie. Then Robbie did a great job of turning it."
Mark Teixeira on being on the receiving end : "That was impressive," Teixeira said. "It was a great play just for Alex to get the ball, first of all, and then you realize that he was that close to third. With how good Robbie can turn it, it was possible."
Related Stories
Read more New York Yankees news on BleacherReport.com