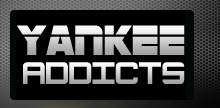 December 11, 2011 · Kate Conroy · Jump to comments
Article Source: Bleacher Report - New York Yankees
I might be the only New York Yankees fan who doesn't think trading AJ Burnett, as the New York Post's George E. King confirmed the rumor to be true, is a good idea.
Here are my three reasons why:
1) If Burnett goes to an AL East team or a playoff contender, the Yankees might have to face AJ down the stretch. And if you forgot why the Yankees signed Burnett in the first place, a main reason was that they hated facing him. Wouldn't that be a slap in the face if that started happening again?
2) The Yankees will have to eat $8 million of the $33 million still owed to AJ, but what will they get back for him? It is a risk because the Yankees are not going to get an arm with a better skill set than Burnett has, and acquiring a worse pitcher isn't worth it.
3) Also, Burnett is liked by his teammates, he works hard and was the only positive thing that came out of the 2011 ALDS. Fact remains that Burnett came through when the team needed him most, under the intense pressure of a win-or-bust Game 4, and he did it not in Yankee Stadium. That is more than I can say about the rest of the Yankees.
So, now that everyone knows about Burnett being offered up, you have to presume word got back to him as well.
Let's think…what is the percentage of a Burnett trade happening?
Slim to none, as teams want young players so they can cultivate them within their own systems. Teams are more likely to ask for Montero, Betances, Nunez or Gardner.
So, what did the Yankees really carry out here?
Nothing, team-wise.
GM Brian Cashman has himself to thank about giving more anxiety to a pitcher who so obviously struggles mentally already. And I believe an "I-am-sorry" phone call is in order before the season starts.
Putting Burnett on the trade block was unnecessary, unrealistic and just plain pointless. There was no need to act so desperate, in my opinion.
So, I want to apologize to AJ Burnett and thank him for stepping it up in the playoffs when no one else could.
Fact is the 2009 Yankees would not have won the World Series without AJ Burnett; and that makes him well worth the alternative of still looking for No. 27, instead of No. 28.
That is the same guy who kept the 2011 Yankees alive for another day when it mattered most in Yankees Universe, and that was in October.
Read more New York Yankees news on BleacherReport.com