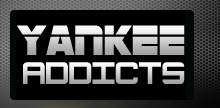 March 21, 2010 · Bronx Baseball Daily · Jump to comments
Article Source: Bleacher Report - New York Yankees
This morning's Yankees game against the Tigers was rained out and it forced the Yankees to scramble to find a way to keep all of their pitchers on the same schedule. What they've decided to do is hold a split-squad workout, Andy Pettitte will start against Joba Chamberlain . AJ Burnett , Phil Hughes , and some other Yankees will also be playing in another game against the Phillies.
Here is some other news:
Marc Carig of The Star-Ledger has a great Q&A that he did with the newest member of the front office, Kevin Towers. It's definitely worth a read if you don't know much about Towers.
Major League Baseball has told the Yankees, Red Sox, and Dodgers that they need to speed up the pace of their games. Apparently the same three teams were told the same thing a year ago. "We do whatever we can. We tell the players what to do, but if you're going to score runs and see lots of pitches and there's pitching changes, the game's going to be longer. But we're doing everything we can to adhere to the rules," Girardi said.
Curtis Granderson was hit on the hand the other day and was removed from the game, but he's feeling fine and said there are no lingering effects. "Everything is good," said Granderson .
Related Stories
Read more New York Yankees news on BleacherReport.com