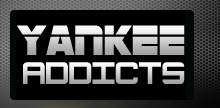 April 13, 2010 · Bronx Baseball Daily · Jump to comments
Article Source: Bleacher Report - New York Yankees
So we're one week into the Yankee season, and the Yanks went 4 and 2 on the road, facing two of the best teams in baseball. I'll take it.
Some thoughts:
Let's give a big thanks to Ben Zobrist

—

the Rays No. 3 hitter

—

for choosing to sacrifice bunt in the first inning when AJ Burnett was looking a little wild and had yet to record an out. Yes, the Rays did indeed end up scoring two runs, but that was really the best chance they had to have a big inning and get AJ out of the game early. Giving him that out pretty much assured there wouldn't be a big inning. Did Joe Maddon really think two runs would be enough to beat the Yankees?
Yes, Javier Vazquez did not have a good outing, and I'm obviously a Vazquez apologist to begin with. But there were still some good signs there. First off, Javy was pretty dominant for the first three innings. And you have to remember, he did not get very much work during Spring Training (he even said it felt like forever since he last pitched). We saw how CC Sabathia also tired earlier than normal in his start. The Yankees choose not to give their guys a heavy workload early, and there are some negative consequences to that (though I think the positives ultimately outweigh the negatives). Vazquez still threw most of his pitches for strikes and compiled a good number of strikeouts. He couldn't really command the zone after the third inning though and caught too much of the plate. His second start should be telling.
I was going to dedicate an entire post to it, but I'm really sick of talking about Joba Chamberlain at this point. He's had three relief appearances—one bad, one good, one mediocre. Yet immediately after his good performance (where he only faced two batters), there was buzz about how he dominated because he was back in the bullpen. Clearly, people need a lesson in causality, not to mention logic. When the performance results do not match up with the point you're trying to argue, you can't simply ignore them. Someone should mention that to Joe Buck and Tim McCarver, who are insufferable as is. Honestly, their discussion on Joba made me want to rip my hair out. If you can use such a limited sample size as proof of something, then shouldn't Joba always be a starter, since he dominated the Red Sox and outpitched Josh Beckett in Fenway (not to mention any of the other quality starts he racked up in '08 and '09)? Phil Hughes had better numbers out of the bullpen than as a starter (and actually, it's a larger discrepancy than with Joba). So why aren't we all clamoring for Hughes in the eighth? I will never understand this fascination with Joba. Never.
I know it's early, but it looks to me like the Red Sox are going to have to slug their way to victory a lot this year, despite their investments in pitching and defense. And they can probably do it, but how long will they keep running David Ortiz out there if he's not hitting?
Maybe it makes me really lame, but I get extremely excited when Nick Johnson draws a walk. Sure, it's not a homerun, but it's kind of like watching Ichiro throw someone out, as both Johnson and Ichiro are probably the best in the game at that singular skill.
Joe Girardi has done a pretty good job thus far, but how is it that Chan Ho Park immediately became higher on the "trust chart" than David Robertson ? What more does Robertson have to do?
So you're a new Yankee looking to gain my favor? Well, hitting an extra-innings, game-winning homerun off of Jonathan Papelbon is a good place to start. Looks like I'll be placing that Curtis Granderson jersey order.
Most Commented Posts
Read more New York Yankees news on BleacherReport.com