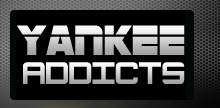 April 21, 2010 · Joseph DelGrippo · Jump to comments
Article Source: Bleacher Report - New York Yankees
One of the best Clint Eastwood movies from his Western days was "The Good, The Bad and The Ugly." Fantastic. Rent it if you have not seen it. In fact, get a bunch of Clint movies one rainy day and park yourself on the couch.
This movie title is going to be the same as this Yankee theme. It will be a bi-weekly segment on the most recent Yankee two week stretch of games.
Don't look now, Ogre, but despite Javier Vazquez, the Yankees enter Wednesday at 10-3, a half game ahead of Tampa Bay and Minnesota for the best record in baseball.
With a record that strong, the Yankees obviously have much which is good about their team. Veteran Yankees like Robinson Cano, Andy Pettitte, Jorge Posada and Derek Jeter have performed well, while CC Sabathia and A.J. Burnett have not suffered the Yankee sophomore jinx.
Newcomer Curtis Granderson was well documented in his inability to hit left handed pitching, but has hit well enough against southpaws. He was also supposed to have bad routes to the ball in the outfield, but appears to do an admirable job with the leather.
They have the best offense, and best starting pitching in the American League.
Here are my opinions on various players over the first two weeks:
THE GOOD
1) CC Sabathia —He continues to be the defined ace. A 2-0 record with a 2.84 ERA and 0.737 WHIP including two dominant starts. The Yankees likely will not have a long losing streak (5+ games) as long as CC is pitching. The thought of removing him in his near no-hitter is dumb . Let this guy pitch and pitch often.
2) A.J. Burnett —I was not a big fan of his signing last year, but, after a nice rookie Yankee campaign, he has also produced this season. Has thrown the same amount of innings as CC with a better ERA (2.37 vs 2.84).
3) Andy Pettitte —Why do too many scouts and baseball people continue to stress high velocity for young starting pitchers? True that extra speed will let you get away with some mistakes, but Pettitte has showed over the last year and this April that a starter can win with movement, changing speeds and location. He didn't top 90 MPH all day Sunday and still dominated a strong Texas Rangers lineup.
4) Robinson Cano —His hitting for early power has dramatically boosted his lineup presence. Hitting in the No. 5 spot is paying off early and his good start has helped temper the slower starts of Mark Teixeira and Alex Rodriguez.
5) Brett Gardner —Brett the Jet has gotten on base at a .410 clip, and has shown what he can do when on the bases with seven steals, tied for the league lead. Still needs to improve his swing, as it is still a bit jumpy. Amazing that he went from first to third last week on a single by Derek Jeter to left field.
He should be in the lineup most every day, and leave the pinch hit duties for Marcus Thames, whose defensive skills are brutal. There is enough offense in that lineup that Thames' right handed bat is not needed every time a lefty pitcher starts.
6) Curtis Granderson —He has performed about as well anyone could have hoped. He has hit for average (.313 BA), hit for power (.563 SLG) and also hit better against LHP (.263 BA). A good guy in the clubhouse, who has given the Yankees good early returns playing under the bright lights of New York.
7) Overall offense —First in runs scored, first in OBP, SLG and OPS, and second in batting average. They has also knocked in those runners once they get on base, hitting .291 with RISP.
8) Joe Girardi —Seems to be even better this year, but does have a little Sparky Anderson in him pulling pitchers too early. I still do not know why he removed David Robertson entering the seventh inning of game one in Boston .
Robertson did give up the game tying hit to Adrian Beltre in the sixth, but then got two weakly hit ground balls for easy outs. No way you burn K-Rob after only six pitches to bring in Chan Ho Park.
Unless it is for Mariano Rivera, never take out a pitcher who is doing well. You just do not know how the new pitcher will be, but you already can see how the current guy is throwing.
THE BAD
1) Robinson Cano —Huh? How is Cano good and bad? While Cano has had a nice start, most of his damage is still with the bases empty. He is only hitting .214 with RISP, and .227 with men on base. He also has a .100 average (1 for 10) in high leverage situations .
Cano still swings at too many bad pitches, getting himself out on pitches out of the strike zone or on good pitchers pitches.
I like his aggressiveness but he needs to be more tempered and selective during big at bats.
2) Nick Johnson —I really don't care about his high OBP, he takes too many pitches which are good pitches to hit. That working the pitcher stuff is crap. When a hitter works the count against a pitcher who throws strikes, pretty soon you are down in the count and sitting on the bench very quickly.
Johnson struck out looking three times in Sunday's game!
If it is a good pitch to hit, then hit the ball; especially with a struggling Teixeira hitting behind you. There are certain times to take a walk (bases empty, man on first), but other times where you need to swing the freaking bat and drive in runs.
If Teixeira was swinging the bat well, then NJ can walk as much as he wants. But when Teixeira, and Alex early on, were struggling, with men were on base and good pitches pumped down the middle, a hitter has to adapt to the situation and swing the bat.
3) Derek Jeter —The Captain is hitting .345/.368/.545/.914 OPS with three home runs, nine runs scored and nine RBI. Why is he bad?
Jeter is resorting again to his early pitch swings at balls he has no business swinging at. Like first pitch fastballs on the inside corner. That is not his pitch. He should only be swinging at inside fastballs if he has two strikes in order to protect. Otherwise, wait for a pitch near the middle or outside and drive it up the middle of the other way.
On good pitches for him to hit, Jeter is magnificent.
His bat seems a bit slow, though, and all those weak ground balls to short stop are an indication and the result.
Also, he has looked a bit tentative defensively, making one error and booting several other balls which were deemed hits by overly friendly official scorers.
THE UGLY
1) Mark Teixeira —We know he will hit, but when will it begin? It appears he has bad approaches at the plate in that he knows he is a slow starter and is waiting for May to begin.
But, he is playing extremely well in the field, and there is no one else I would rather have as the Yankees first baseman. This team is so good, that is can get off to a 10-3 start with your #3 hitter looking like Bob Buhl most of the first two weeks.
UZR Warning – Teixeira's UZR took a hit early in the season when Jacoby Ellsbury doubled down the right field line. Doesn't matter that Tex was playing Ellsbury (who doesn't pull the ball down the line much) over in the 3.5 hole. A ball hit into his zone was not turned into an out.
2) Javier Vazquez —Up until last night I was going to include a REALLY UGLY category, but Vazquez got on the board with his first Yankee W in 2010. As in his first two starts, Vazquez puts up ZEROES most of the innings he works, but then gives up the big (2+ run) inning.
With Travis Buck solo HR in the 5th inning, it was the first time Vazquez worked an inning where only one run was scored. It is usually two-plus runs or zeroes. That was the pattern when Kurt Suzuki took him deep an inning later, resulting from the miscommunication on a lazy pop up behind second base.
How many UZR were affected by that ball?
Neither HR hurt as the Yankees had the big six run lead. In fact, Buck's HR came on a 3-2 pitch with the bases empty. With a six run lead, Javy did what pitchers are supposed to do: throw it down the middle and hope for the best. But why not throw all the pitches down the middle at that point?
And as Pettitte has shown this year, you do not need 92+ fastballs to win in the league. So no worries here about Javy's reduced velocity from last season.
THE END
The Yankees are stacked, having the best hitting in the league and the best starting pitching, too. Even the bullpen has been good, with Chan Ho Park's Boston meltdown the only blemish. Bullpen ERA's can get inflated with a blowout loss, so Robertson's four-run inning while the Yankees were already losing late is not an issue.
But when the pen needs a big pitch, they are usually getting it—like Joba Chamberlain did last night by striking out Kevin Kouzmanoff with the bases loaded in the eighth inning.
What will happen in the next two weeks? Teixeira will hit, someone else will then slump (that's baseball), Jeter, and CC and Posada will do their thing and Nick Johnson will continue to take pitches down the middle.
You can pitch count on it.
Read more New York Yankees news on BleacherReport.com