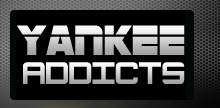 April 13, 2010 · Andrew Weaver · Jump to comments
Article Source: Bleacher Report - New York Yankees
It was a cool, partly cloudy afternoon in the Bronx on Tuesday: the perfect weather for Opening Day at the new Yankee Stadium.
World Series rings were given out, a prank was played on Hideki Matsui (known by his New York faithful as "Gozilla"), and good ol' Jerry Hairston Jr. even stopped by.
The General of the Yankees rotation, Andy Pettitte, took the mound, and from the first pitch on, the game went according to plan:
Derek Jeter hit a home run.
Jorge Posada had three hits and an RBI.
Andy Pettitte pitched six scoreless innings.
And when the 27th out was recorded, Mariano got the save.
Couldn't have written it up any better, right?
Well, the ends may have justified the means today, but the means weren't as smooth as Joe Girardi would have liked.
Leading 7-1 in the 9th inning, David Robertson took the hill.
Considering Robertson's 2009 season (63 strikeouts, 3.30 ERA, and only 4 home runs allowed in 43 2/3 innings), one could easily stack this game in the win column.
But in uncharacteristic form, Robertson loaded the bases and served up a grand slam to our old friend Bobby "Seven Minute" Ab-reu! Just like that, the Angels were within two runs, at 7-5.
Fears were calmed, however, when the "sandman" officially "entered."
It wasn't long until the Angels were off to Never Never Land.
A win is a win any way you slice it, but Robertson's performance raises the question: who ARE the Yankees relief pitchers?
Through seven games, albeit a small sample size, Yankee relief pitchers not named "Mariano" haven't exactly given reasons to rest easy at night.
Joba Chamberlain, Chan Ho Park, David Robertson, and Damaso Marte have collectively done an OK job so far. But they have each, at times, left a lot to be desired.
It took a few months for Girardi to figure out his pen in 2009 (after all, remember when Edwar Ramirez and Jose Veras held legitimate spots early last year?). However, he finally got it right, as the bullpen became one of the Yankees' biggest strengths heading into the 2009 Playoffs.
Joba and Chan Ho were electric in their second appearances at Fenway last week, but awful in their first. What pitchers will they, Marte, and Robertson be in 2010?
Hopefully their fates will be different from Ramirez's and Veras' were last season.
Read more New York Yankees news on BleacherReport.com