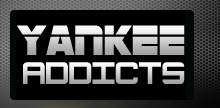 News published by
April 13, 2010
It was a cool, partly cloudy afternoon in the Bronx on Tuesday: the perfect weather for Opening Day at the new Yankee Stadium.World Series rings were given out, a prank ...
August 5, 2009
Kids love 'em. If given the right to choose a breakfast food on a daily basis, I'd bet most little tikes would opt for a circular sugary cake—or two.    But why shouldn't ...
July 25, 2009
Just when you thought he couldn't pitch out of the fifth inning, Joba Chamberlain has now put together consecutive starts pitching at least 6 2/3 innings for the first time ...