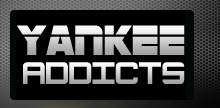 December 22, 2009 · Adam Bernacchio · Jump to comments
Article Source: Bleacher Report - New York Yankees
As if we need any more reasons to hate the New York Yankees.
According to SI.com's Jon Heyman, the Yankees have acquired RHP Javier Vazquez and LHP Boone Logan for OF Melky Cabrera, LHP Mike Dunn, and RHP Arodys Vizcaino.
So let me understand this, and I think I do.
The Braves had a surplus of pitching and were looking to trade either Derek Lowe or Vazquez to acquire a much-needed bat. Vazquez had more value because he is younger than Lowe and only has one year remaining on his contract, while Lowe has three more years.
So the Braves trade the guy with the most value to the Yankees and are only able to get a fourth outfielder in Cabrera? My head is going to explode.
I have watched Cabrera for the last three years, and I don't need to see any stats telling me how good he is. Cabrera is a mediocre, fourth outfielder.
If Cabrera played on the San Diego Padres or the Cincinnati Reds nobody would ever hear a word about him, but because he is a "Yankee," people think he is a good baseball player. If you think he is good, then you are just a Yankee homer or…no, that would be the only reason.
I can't believe the Braves—a pretty smart organization—fell for it.
Like I said, I have watched Cabrera on a regular basis over the last three years, and he has ZERO baseball IQ. He has zero baseball IQ and has limited ability—that is a bad combination. He was just an extreme product of the powerful Yankee lineup.
I will say one positive thing about Cabrera: He does have a very good arm.
He is going to go to the Braves and hit .265 with nine home runs and have an OPS around .700. Those are stats that someone like Ryan Church could put up.
The Braves also received Vizcaino, who was the Yankees' No. 3 prospect according to BaseballAmerica.com . Dunn hasn't been ranked in the top 10 of Yankee prospects over the last two years by BaseballAmerica.com but was so prized he couldn't be included in the Curtis Granderson trade.
Dunn is nothing more than a left-handed reliever. Once again, the Yankees' hype machine of prospects does its job.
For the Yankees, this is one steal of a trade. I know Yankee fans have negative thoughts about Vazquez because he faded at the end of the 2004 season and gave up the grand slam to Johnny Damon in Game Seven of the ALCS.
But the Yankees traded for Vazquez in 2003 to be their No. 1 or No. 2 starter in 2004. Now they have traded for Vazquez in 2009 to be their No. 4 starter in 2010. This time Vazquez is coming here with very little pressure on him.
Think about it. There are only two pitchers since 2004 to pitch 1,000 innings and have 1,000 strikeouts and Johan Santana is one. The other one is now the No. 4 starter on the Yankees.
And for those of you Yankee fans who are concerned with Vazquez going from the National League to the American League, here is a juicy nugget for you:
In eight years in the NL and four years in the AL, Vazquez has the same K/9 rate (8.1), almost the same HR/9 (1.1 to 1.2), the same hits/9 (8.9), and almost the same WHIP (1.24 to 1.26).
As you can see, there is virtually no difference between AL Vazquez and NL Vazquez.
This deal also opens up the left field spot for the Yankees. The Yankees could bring back Damon or, of course, sign Matt Holliday or Jason Bay to really stick it to the rest of baseball.
The Yankees acquired Granderson and Vazquez and didn't have to give up Phil Hughes, Joba Chamberlain, Jesus Montero, or even Austin Romine.
The World Series champs have gotten even better this offseason.
You can follow The Ghost of Moonlight Graham on Twitter @ theghostofmlg.
Read more New York Yankees news on BleacherReport.com