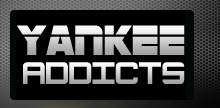 February 22, 2010 · Bronx Baseball Daily · Jump to comments
Article Source: Bleacher Report - New York Yankees
According to Thomas Harding of MLB.com , the Yankees have signed free agent reliever Chan Ho Park who most recently pitched against the Bombes for the Phillies in the World Series to a one-year $1.2 million contract. Incentives could make the deal worth an additional $300,000.
Apparently Park made the announcement at 1:00 am eastern time at his fitness center, Park 61, in Seoul Korea. The Yankees have yet to make an announcement, but Harding's story landed itself on Yankees.com giving it a level of authority even though the news broke in unorthodox fashion. It also leaves the question, when will Park report to spring training if he is making this announcement in Korea.
Park was labeled a bust after signing a five-year $65 million contract with the Texas Rangers in 2002 and only managing a 33-33 record with a 5.56 ERA and a 82 ERA+. In 2008 he signed with the Dodgers and was moved to the bullpen and had a strong season.
In 95.1 innings that season he had a 3.40 ERA, a 1.395 WHIP and a 123 ERA+. Last season he was rather mediocre putting up a 4.43 ERA, a 1.404 WHIP, and a 96 ERA+ over 83.1 innings.
If this is true, and I won't be 100 percent certain until the Yankees make an announcement, then this move doesn't make a lot of sense. Unless of course they plan on trading Chad Gaudin and his $2.95 million salary. Then Park is just a replacement for him. Otherwise it seems like a waste of money for a part the Yankees don't need in an offseason where the Yankees have repeatedly talked about sticking to a budget.
In a quick assessment of the Yankees bullpen it is unclear where Park fits in. They are likely to carry six to seven relievers and after Mariano Rivera, Damaso Marte, one of either Phil Hughes or Joba Chamberlain, David Robertson, and Alfredo Aceves that leaves only one or two more spots. Park would be battling for that spot or spots with Gaudin, Sergio Mitre, Boone Logan, and Mark Melancon.
Assuming everyone stays healthy, I can't see Park being a lock to beat those guys out for the job. What do you think?
Read more New York Yankees news on BleacherReport.com