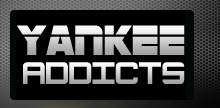 February 22, 2010 · Adam Bernacchio · Jump to comments
Article Source: Bleacher Report - New York Yankees
If you can't beat them, join them.
Last year, the New York Yankees beat the Philadelphia Phillies and Chan Ho Park in the World Series, so Park figured why not join the team that beat him in the fall classic.
According to Thomas Harding , of MLB.com the Yankees have signed Park to a one-year, $1.2 million contract. Park can also make an additional $300,000 in incentives.
Park finished the 2009 season with a 4.43 ERA in 83.1 innings and had a 1.40 WHIP. He was much more effective as a reliever than a starter, and posited a 2.52 ERA in 50 innings of relief work.
The Yankees already have Alfredo Aceves, Dave Robertson, and either Joba Chamberlain or Phil Hughes as right-handed set-up men, so where Park fits in with the Yankees' bullpen remains to be seen.
I expect Park to pitch in the sixth or seventh inning as part of the underbelly of the Yankees' bullpen.
You can follow The Ghost of Moonlight Graham on Twitter @ theghostofmlg
Read more New York Yankees news on BleacherReport.com