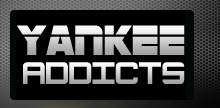 November 21, 2011 · Phillip Brown · Jump to comments
Article Source: Bleacher Report - New York Yankees
The New York Daily News recently published an article that said that the Atlanta Braves called Brian Cashman regarding Eduardo Nunez. The Yankees need pitching, so it can be implied that they would ask for Jair Jurrjens, who is rumored to be being shopped.
Would the Yankees trade Eduardo Nunez for Jair Jurrjens?
Let me start out by saying that I fully supported a trade for Jair Jurrjens if the price was right, but that is the thing, would the Braves be willing to part with Jurrjens for a price Cashman would agree to?
The first nail in the coffin is a series of text messages between Yankees GM Brian Cashman and ESPN New York writer Wallace Matthews. Here is a transcript of Wallace Matthews' conversation with the Brian Cashman, which you can find here:
Matthews: What r u working on?
Cashman: 2012
Matthews: Thanks
Cashman: Do something on winter ball
Matthews: Hector Noesi is 3-1, 2.31 ERA in Dominican League.
Cashman: Blog it
Matthews: Any chance of making Jurrjens deal? For Nunez and who else?
Cashman: Stop wasting your breath
Matthews: How about Reyes to the Yankees, Jeter to the OF?
Cashman: U should work for the Enquirer
Matthews: Good idea. Would Buerhle be a good fit for 4 u guys?
Cashman: Winterball
Matthews: Brrrrrrr
This does not look good. Brian Cashman has never been one to show his hand when it comes to free agency and trades, but this looks like he is crossing Jurrjens off the list of possible offseason targets.
If that was not bad enough, an anonymous source stated, "No. 1, we're not trading Nunez, and No. 2, there's concerns that Jurrjens has a serious knee injury."
I do not believe that Eduardo Nunez is that important to the Yankees future; he is a decent starter and an excellent utility player, but he has a limited ceiling and his defense is atrocious.
On the flip side, Jair Jurrjens is a bona fide ace when healthy, but that is the thing, he needs to be healthy. If the Yankees refuse to trade Eduardo Nunez and they believe that Jurrjens' knee injury is too serious, then it looks like this possible trade is not going to happen.
If Jair Jurrjens' injury is really as bad as it appears, the Yankees are wise to look for other options.
Will the Yankees trade for a front-line starter this offseason? Probably. Will it be Jurrjens? It looks less and less likely with each passing day.
Stay tuned.
Read more New York Yankees news on BleacherReport.com