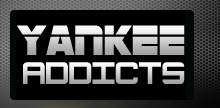 November 22, 2011 · Phillip Brown · Jump to comments
Article Source: Bleacher Report - New York Yankees
The Yankees need pitching, that is for sure, but finding a frontline starter is easier said than done.
People have already discussed deals for Gio Gonzalez, Felix Hernandez, Matt Cain, Tim Lincecum, Jair Jurrjens and James Shields among others, but there is one name that's very intriguing: Michael Pineda.
Yes, the same Pineda that was considered a lock for the AL Rookie of the Year Award when he posted a 3.03 ERA in 113 innings prior to the All-Star break. Pineda cooled down in the second half of the season, to say the least, but he has shown that he can pitch effectively in the majors.
Most people decided that the Yankees should not trade for Jurrjens because of his lack of velocity and strikeouts. Pineda, on the other hand, hits 99 mph on the radar gun and averages around 95 mph on his fastball.
Sounds good so far.
Add in his 9.1 K/9, 3.15 K/BB and .211 BAA, and he seems like a perfect fit in New York, especially at only 22 years old. The other issue with Jurrjens was his durability, and at 6-foot-7, 260 pounds, Pineda looks like he will be very durable, especially since he has yet to have a major injury in his career as a Seattle Mariner.
Sounds like a perfect fit, right? Well, not exactly. Pineda gave up 0.95 HR/9 in huge Safeco Field, with a ground ball rate of only 36 percent; in Yankee Stadium, he may not cut it if he keeps those numbers.
But if Pineda can develop with Larry Rothschild I am sure he can adapt to Yankee Stadium.
The next thing that must happen—now that we have an idea of what the Yankees would be getting in return—is a call between Yankees GM Brian Cashman and Mariners GM Jack Zduriencik.
But this could be difficult. Zduriencik and the Mariners spurned the Yankees during the 2010 trade deadline, trading Cliff Lee to the Texas Rangers when New York thought they had a deal in place.
If there is no bad blood between Cashman and Zduriencik, the next topic would be price. What do the Mariners need more than anything? Offense. How about Jesus Montero? He would slot in nicely at first base and would move Justin Smoak to the outfield.
Adding Montero would instantly energize the Mariners lineup.
In return, the Yankees would be adding a 22-year-old power pitching righty who would create a formidable quartet with Ivan Nova, Manny Banuelos and Dellin Betances for years to come.
So, what do you think? Should the Yankees call the Mariners about a possible Montero-for-Pineda swap?
Read more New York Yankees news on BleacherReport.com