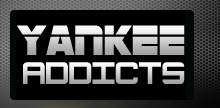 May 5, 2009 · Andrew Zercie · Jump to comments
Article Source: Bleacher Report - New York Yankees
Aces are not born overnight. For Yankees fans to expect Joba Chamberlain's transition from the bullpen to the rotation to be smooth and seamless would be asking quite a bit.
Tuesday night's game against the Boston Red Sox was, in a way, a microcosm of Joba's career as a starter. He's been prone to the big inning once in a while. His stuff has looked flat for an inning here and there. When he is "on," though, Joba's been downright filthy.
Three things stand out for me regarding Joba Chamberlain after his performance against the Red Sox:
1) The starter vs. reliever debate is over. Twelve strikeouts in 5.2 innings pitched? It would be a waste to just bottle that electric stuff up and use it for 70-to-80 innings a year.
2) Joba needs to work on being more economical with his pitches. It's part of being a young starting pitcher and learning on the job, of course. Remember, Joba was rushed to the majors back in 2007. Most pitchers his age and with his amount of professional experience would probably be in Double or Triple A.
Still, assuming an innings limit of around 150 this year for Joba, it would be nice to see fewer high-stress, taxing innings on that right arm. He should mix in a few diving fastballs to invite weak contact or broken bats, rather than trying to blow hitters away at every opportunity.
3) Joba's on-the-mound body language and histrionics invite trouble for he and the Yankees.
I have no problem with the occasional fist pump after a strikeout. If he wants to stalk around the mound after a strikeout, while the infield tosses the ball around, that's great. He wouldn't be the first guy to do these things.
However, if a two-strike pitch is close and it doesn't result in a called third strike, it shows disrespect to the umpire to hop-skip around the mound, as he did at one point in the fifth inning. Joba acted as if the ump was disrupting the show he was trying to put on.
It's not the first time he's acted in a manner that brings into question his on-field professionalism.
Also, the opposition certainly doesn't appreciate some of the prancing and dancing Joba does out there, not to mention the occasional intentional plunkings.
Pitchers should pitch inside. Every rule change in the game of baseball since 1968 has favored hitters. If a pitcher wants to control the inner half of the plate, that is their right.
However, when Joba nailed Jason Bay on his first offering following a hard-fought walk to David Ortiz in the fifth inning, it seemed as if there was intent.
To that point, nine of the previous 14 batters Chamberlain faced had struck out. In baseball parlance, Joba was "dealing."
Yet, he lost his pinpoint control to the man who clubbed a three-run home run off him in the first inning? At the very least, the hit-by-pitch was questionable and, more than likely, intentional.
Luckily for the injury-riddled Yankees, the Red Sox did not retaliate. But one of these days, Joba is going to hit someone, and it's going to set off a firestorm.
Joba Chamberlain clearly has the talent to be an impact pitcher for the New York Yankees. How quickly he harnesses his ability and his temperament could go a long way toward determining what kind of season the team has in 2009.