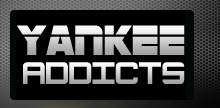 October 29, 2010 · Kate Conroy · Jump to comments
Article Source: Bleacher Report - New York Yankees
It's official.
Joe Girardi will remain the New York Yankees' skipper for three more seasons.
Many Yankees fans have been quick to blame Girardi for the team's failure to repeat as World Series Champions. Fans were frustrated all season with Girardi, blaming any loss on unnecessary pitching changes or playing it by the book/binder.
I personally didn't agree with the hyper-criticism most of the time. It isn't going to accomplish anything. In 2009, Girardi was praised for moving Derek Jeter from the two-hole to the leadoff spot. This season, fans constantly complained about getting Jeter out of the spot, blaming Girardi and not Jeter's problems at the plate.
Winning a World Series, followed by a trip to the ALCS is an excellent track record by my standards. Does that mean I agree with every move Joe Girardi made? No, it doesn't. There are always going to be questionable moves, particularly when it comes to being the skipper of the New York Yankees.
It would be one thing if Girardi was lazy and his decisions were effortless, but that is not the case. Girardi wants to win as much as any fan or player. Girardi treats all the players fairly, not asking them to do anything he has not done or would not do himself. I trust him as a skipper, but more importantly as a person.
Being used to Joe Torre's laid-back mannerism for so many years, it was hard to let go and move on. Torre's shoes were the hardest to fill in baseball in 2007, no matter who replaced him.
Joe Girardi has brought the Yankees back to the forefront of baseball again. The team hasn't been this fun to watch since 1998, because Girardi believes in every single player and truly wants him to succeed. This is a sentiment Torre did not share as Yankee fans learned from his book, which is not a quality characteristic in a manager, or any leader, for that matter.
Girardi isn't perfect, but find me a better man more suitable for the Yankees. As of today, Joe Girardi is the right man for this job and I am happy he is around for three more seasons. I am looking forward to seeing numbers 28, 29 and, god-willing, 30 on the back of his jersey.
Congratulations on a job well done!!!
Read more New York Yankees news on BleacherReport.com