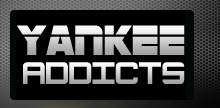 January 25, 2012 · Chris Sbalcio · Jump to comments
Article Source: Bleacher Report - New York Yankees
When it comes to the New York Yankees, people usually don't think twice about tossing around the phrase "World Series favorites" on any given year.
Somehow, someway, the Yankees almost always seem to vault themselves into the playoffs by season's end, and 2012 will be no different.
The Yankees seemed like a sure-fire second-place team in 2011, with the potential to fall to third place if the pesky Rays could manage to keep winning. Those Rays did in fact keep winning, against all odds, but the Yankees were not the team left out of the postseason, as they took home the AL East title with the much-hyped Red Sox heavily underachieving and collapsing down the stretch.
Remember, this was a Yankees team that despite having an identical lineup to the projected 2012 team, had a much weaker starting rotation. After CC Sabathia, the Yankees' staff was made up of Phil Hughes, A.J. Burnett, Ivan Nova, Freddy Garcia and Bartolo Colon. That's a bonafide ace, a one-year stud who wound up injured, an inconsistent mess, a breakout rookie and two washed-up veterans.
That rotation managed to lead the Bombers to a 97-win season, so what could the new revamped rotation of Sabathia, Nova, Michael Pineda, Hiroki Kuroda and Hughes (my guess for the fifth starter) accomplish? 100 wins is definitely a real possibility, and it could be even more.
But we have to remember how the 2011 Yankees performed in 2011. They had a bunch of guys carry the team with incredible years, while others underachieved and didn't quite live up to their potential.
In order for the Yankees to return to the top of the baseball world in 2012 and capture their 28th World Series title, they will need eight specific players to really prove their worth over the course of the rigorous 162-game season and into the playoffs.