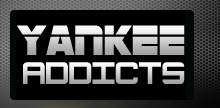 News published by
August 14, 2012
Despite the injuries, the New York Yankees are still one of the best teams in baseball. Their pitching is strong and even with Andy Pettitte and CC Sabathia on the ...
August 7, 2012
We all know the Yankees are a very high-profile team, full of big-name players.  We also all know that a lot of those players have some pretty hefty contracts, a ...
July 23, 2012
The 2012 New York Yankees are not a team with many weaknesses.In fact, going into this trade deadline, the Yankees were not even hard-pressed to add another front-line starting pitcher, ...
July 12, 2012
This trade deadline, everyone is going to be paying attention to the big names, the game-changers that will be on the move.  Guys like Zack Greinke, Cole Hamels, Matt Garza ...
July 4, 2012
The 2012 season has thus far been a successful one in New York, where both major league clubs approach the All-Star breaks at or near the top of their respective ...
June 22, 2012
The New York Yankees are the hottest team in baseball.  They have won 20 of their last 26 games, including an MLB-best 10-game winning streak along the way, and there ...
May 15, 2012
2012 has been an up-and-down season for the New York Yankees thus far. Some players have been surprisingly hot, while some have been uncharacteristically cold. The team as a whole ...
February 22, 2012
When you think of the New York Yankees, you probably think of big-name players, championships, and ludicrous contracts.  With the Yankees, the motto might as well be "go big, and ...
January 25, 2012
When it comes to the New York Yankees, people usually don't think twice about tossing around the phrase "World Series favorites" on any given year.  Somehow, someway, the Yankees almost ...
January 5, 2012
The trade market has been a busy one thus far this offseason.  With the rather sub-par crop of free agent pitchers this offseason, this doesn't come as much of a ...