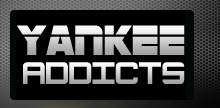 November 30, 2011 · Rick Weiner · Jump to comments
Article Source: Bleacher Report - New York Yankees
Everybody has their guy.
You know who I'm talking about—he's not necessarily a superstar, a starter, or even very good.
But he's your guy and when he steps to the plate, you stop what you are doing and watch.
With a history as long and storied as the Yankees have, over 2,000 players have donned the pinstripes at one point or another.
That certainly gives us a large group to choose from, and when I started working on this, it was supposed to be a top 25 list.
But that proved to be impossible.
No matter what I did, there was simply no possible way to only do 25—too many deserving candidates would be left out.
Mind you, I did work on this: checking with Yankee fans, some of my fellow Bleacher Report columnists, even our esteemed editor.
Everyone was in agreement—the number needed to be 50.
So here we are. Without further ado, the 50 biggest fan favorites in Yankee history.