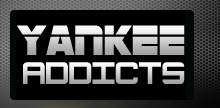 March 9, 2012 · Michael Moraitis · Jump to comments
Article Source: Bleacher Report - New York Yankees
Jus
After a tough 2011 season that was full of ups and downs, Rafael Soriano may get another chance to take the role he lost, and was originally signed for, last season as the setup man.
The New York Yankees' current eighth-inning guy, David Robertson, might not be ready to start the season, and that could mean a second chance for Soriano.
Soriano was the Yanks' original setup man last season and was one of the more expensive signings the Bombers made during that offseason.
But after an ineffective beginning to his pinstripe career and a stint on the DL, Soriano lost his job to Robertson, who began the year behind both Soriano and Joba Chamberlain on the bullpen depth chart.
Robertson shined in the role and ultimately had one of the best seasons for any reliever by far in MLB as he pitched to a 1.08 ERA.
So it was only fitting that Soriano, as a result of Robertson's season, was relegated to the seventh-inning role where he finished out the year. Despite a rough start, Soriano did finish strong and gave the Yankees an unbeatable back end of the bullpen.
It looked as if that would continue in 2012, but now that Robertson injured his foot, the Yanks' setup man might not be ready to start the season. That means a second chance for Soriano.
If the Yanks' seventh-inning guy gets his shot to retain the setup role, it could put Sori back in line to become New York's next closer if or when Mariano Rivera retires.
No doubt that was the original plan when the Yanks signed Soriano to such a lucrative deal—one far too lucrative for a setup man by any stretch.
All it will take is for Robertson to miss the start of the season and for Soriano to pitch well in the eighth inning. Even if Robertson comes back healthy, it still might be tough to remove Sori from that role if he has success.
Soriano, who was once thought to be an overpaid waste of time, could now find himself with a more prominent role in 2012 and beyond as the next possible Yankee closer.
Read more New York Yankees news on BleacherReport.com