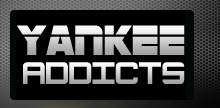 February 19, 2010 · Bronx Baseball Daily · Jump to comments
Article Source: Bleacher Report - New York Yankees
We've seen a ton of these this winter. It seems like every Yankee blog out there has their own. We've even toyed with the idea of releasing one here at BBD (having not seen most of these players play ourselves we've decided to let others handle it).
Out of all of those lists there really are only a couple that matter. Pinstripes Plus is a must read (but will cost you $89.95 for a year subscription). Pending Pinstripes and friend of the blog, Robert Pimpsner, are a couple other good ones. River Ave Blues' own Mike Axisa would be an example of a very strong prospect list.
Without further adieu, here is the list:
30. Dellin Betances, RHP
29. Dan Brewer, OF
28. Greg Golson, OF
27. DJ Mitchell, RHP
26. Jairo Heredia, RHP
25. Kevin Russo, IF
24. Hector Noesi, RHP
23. Jamie Hoffmann, OF
22. Bradley Suttle, 3B
21. Caleb Cotham, RHP
20. David Phelps, RHP
19. Wilkin DeLaRosa LHP
18. Bryan Mitchell, RHP
17. Graham Stoneburner, RHP
16. Francisco Cervelli, C
15. Kelvin Deleon, OF
14. Corban Joseph, 2B
13. David Adams, 2B
12. Ivan Nova, RHP
11. Adam Warren, RHP
10. Jose Ramirez, RHP
09. Andrew Brackman RHP
08. JR Murphy, C
07. Jeremy Bleich, LHP
06. Mark Melancon, RHP
05. Zach McAllister, RHP
04. Slade Heathcott, CF
03. Manny Banuelos, LHP
02. Austin Romine, C
01. Jesus Montero, C
I like how Mike put his list together. Instead of falling head over heels for low-level, untested prospects, his list includes lower ceiling players who are closer to actually contributing at the major league level in some form. That means guys like Greg Golson, Kevin Russo, Jamie Hoffmann, Francisco Cervelli, and Mark Melancon are on the list.
To me this way is more realistic. Sure Gary Sanchez might have a huge ceiling, but he hasn't even brought his game state-side yet. Part of me doesn't want to even think about him as a potential prospect until he's at least made it to Staten Island (low-A). At the same time, Mike hasn't left off recent prospects like Adam Warren, Graham Stoneburner, and Bryan Mitchell.
Am I just throwing a list of names at you that you don't understand? Sorry about that. We at Bronx Baseball Daily are planning on running some prospect preview articles in the lead up to the 2010 season, so make sure you stay tuned for that. You should also head over to Mike Axisa's actual Prospect List article for write-ups for each of these players.
So head over there now, but make sure to check back for our own rundown on most of these players.
Most Commented Posts
Read more New York Yankees news on BleacherReport.com